9 Day Hawaii Islands Golf Cruise NCL Pride of America Balcony Cabin Marriott Waikiki Beach Resort includes 5 Hawaii Championship Courses – exclusive GolfAhoy offer!
9 Day Balcony Cabin Circle Hawaii Islands Golf Cruise Marriott Waikiki Beach Resort and Pride of America package – exclusive GolfAhoy offer!
Dare to compare, our bundled package pricing is unbeatable!
9 Day Economy Circle Hawaii Golf Cruise with Balcony Cabin and 5 Championship course golf rounds included the package from US$4,969 per person double occupancy low season.
See our GolfAhoy package inclusions below. Book early. A low initial deposit of US$250 pp guarantees the lowest fare for your sail date.
GolfAhoy '9 Day Economy Circle Hawaii Golf Cruises with Balcony Cabin and 5 Championship Course 18-hole Golf Rounds' included packages start every Thursday year-round, with your check-in at the Waikiki Beach Marriott Resort & Spa. Hawaii Islands Golf Cruise NCL Pride of America.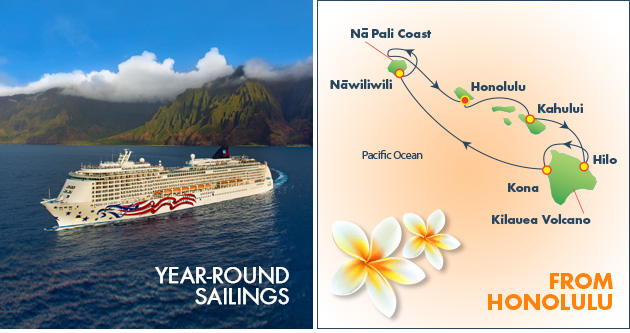 GolfAhoy 2 Nights pre-cruise Waikiki Beach Marriott Resort & Spa accommodations pkg includes city view king, queen or two double beds. Your choice! Alternate Waikiki hotel, when Marriott unavailable for your travel date, Aston Waikiki Beach Hotel 
GolfAhoy pre-cruise and post-cruise Waikiki Beach Marriott Resort & Spa packages include 2 nights' accommodations, transfer service between hotel and Pride of America at Port of Honolulu, bellman service for luggage, taxes and service charges.
The Waikiki Beach Marriott Resort & Spa (2 nights' pre-cruise or post-cruise pkg choice) offers a spa, swimming pools, shops, restaurants, lounges and more.
Play in the surf at the tropical playground surrounding the Waikiki Beach Marriott Resort & Spa or take a surf lesson. Situated only steps from world-famous Waikiki Beach and the Pacific Ocean, this Waikiki resort spans 5.2 acres of picturesque beauty and splendor. The resort features swaying palm trees and warm, comfortable spaces including a newly renovated and modernized Nanea Lobby.
Located next to Diamond Head Crater and near an array of attractions, the luxurious Waikiki Beach Marriott Resort & Spa offers unrivaled services in a landmark setting. Dine at a selection of optional premier restaurants that serve everything from continental breakfast and poolside lunches to dinner buffets. Pamper yourself at the Spa with a rejuvenating treatment.
The Waikiki Beach Marriott Resort & Spa features 1,310 luxurious rooms and suites in two magnificent towers. Guest rooms have been refurbished with tropical island décor to enhance your vacation experience.
Royal Kaila SPA
The Royal Kaila Spa is located on the second floor of the Waikiki Marriot Resort with an ocean view overlooking Waikiki beach.
Based on traditional Hawaiian methods of healing and beautifying, combined with AVEDA concepts, the Spa provides relaxing and replenishing treatments using pure flower and plant essences. Highly qualified Aveda-trained therapists welcome you with Hawaiian hospitality. For GolfAhoy guests who would like to enjoy treatments as a pair, the Spa has a special private room for couples. A muscular tone up golfers Spa treatment before your golf game is recommended by GolfAhoy.
Optional Dining at the Waikiki Beach Marriott Resort & Spa
Kuhio Beach Grill offers daily breakfast buffets. In the evening, the oceanfront location features Modern American small plates with local ingredients seven nights a week and a special dinner buffet Friday – Sunday.
Moana Terrace featuring live nightly entertainment, this Waikiki restaurant's poolside venue offers you a relaxing atmosphere to sit and eat or get up and dance to join in on the fun.
Sansei Seafood Restaurant & Sushi Bar serving award-winning Asian-Pacific cuisine is a local favorite.
d.k. Steak House is a true American steakhouse serving dry-aged steaks cooked to perfection for a true treat during your vacation.
Arancino di Mare an on-site Italian restaurant serves fresh, original and delicious Italian food that will have you coming back for more during your stay.
The International Market Place, Waikiki Aquarium, and Honolulu Zoo are just a few of the nearby tourist attractions.
Friday Hawaii Islands Golf Cruise NCL Pride of America
Pre-Cruise or Post-Cruise Golf Options | Oahu
Optional add-on golf excursions, on Oahu, with transfers, to the Ko Olina Golf Club or the Palmer Golf Course at Turtle Bay are available through your GolfAhoy reservation agent in combination with your 9 Day Economy Circle Hawaii Golf Cruise with Balcony Cabin booking. All golfing arrangements exclusive to GolfAhoy booking clients only – no travel agent calls please – our all-inclusive package fares are non-commissionable in order to keep fares competitively priced. GolfAhoy offers our clients a Lowest Price Guarantee.
Ko Olina Golf Club. http://www.koolinagolf.com/  Ko Olina Golf Club, one of Golf Digest's "Top 75 Resort Courses in the U.S." is a challenging 18-hole Oahu golf course built in 1990 by renowned course architect Ted Robinson. Typical of his designs, Ko Olina Golf Club features exceptional water features, multi-tiered greens, large landing areas, and a moderate length which makes it perfect for beginners and experts alike. Located on the sunny West Coast of Oahu, just a short drive from Honolulu and Waikiki, Ko Olina Golf Club was home to the 2016 LOTTE Championship presented by Hershey.
Twilight rate after 1:00 pm from $159 + taxes and FREE round-trip transportation from the Waikiki Beach Marriott Resort & Spa with your GolfAhoy reservation. Includes 18-hole golf round, green fees, and cart fees. Morning rates are higher.
Palmer Course Turtle Bay. http://www.turtlebayresort.com/Hawaii-Golf/Courses/Palmer-Course  Consistently regarded as the best course on Oahu (and among the very best on all the islands), the Turtle Bay Palmer Course is an absolute must-play. Set along Hawaii's North Shore, home to Pipeline, Sunset Beach, and Waimea Bay, the course meanders its way through the natural wetlands, and circumvents natural waterways and dense Hawaiian jungle that offers great protection from the coastal winds, and meets the ocean coast on its penultimate signature hole, the par-4 17th.
"Top 100 Public Courses in the US" – Golf Digest
"Best Kept Secret in Hawaii" – Travel & Leisure
"75 Greatest Golf Resorts in the World" – Golf Digest
"Top Five Courses in Hawaii" – Golf Digest
"Top 50 Public Practice Range" – Golf Range Association of America
"Fabulous Value" – Leisure & Travel Golf Magazine
FREE Shuttle roundtrip from the Waikiki Beach Marriott Resort & Spa INCLUDED with your GolfAhoy reservation to Turtle Bay, with a Palmer morning round of golf if booked through your GolfAhoy agent from $219 + taxes. Round trip transportation from the Waikiki Beach Marriott Resort & Spa to Turtle Bay Resort INCLUDED, in an air-conditioned van, an 18-hole round of golf on the Palmer Course, green fees and cart fees all included. The shuttle pick up time at the Waikiki Beach Marriott Resort & Spa is at 6:55 am for a tee time between 8:40 am – 8:50 am. No exceptions offered. The shuttle will depart Turtle Bay at 2 pm for the return to the Waikiki Beach Marriott Resort & Spa. The ride takes about 1 hour and 15 minutes. Ride-along fee for non-golfer travel companion $100 subject to space availability in the shuttle van.
At the NCL Pride of America Customer Service Center located in the Waikiki Beach Marriott Resort & Spa lobby, you may check in with your luggage and golf bags on Saturday morning for your cruise. The NCL Service Center can also help arrange custom Oahu tour packages for non-golfing travel companions designed to coordinate with your ship departure and arrival times.
Saturday Hawaii Islands Golf Cruise NCL Pride of America
Depart the Waikiki Beach Marriott Resort & Spa for NCL's Pride of America at Pier 2 in the Port of Honolulu in your transfer coach at the appointed departure time shown in your GolfAhoy and NCL travel documents and vouchers. At the Port next to Pier 2 you can visit the Aloha Tower Marketplace, a trendy shopping, dining and entertainment complex that sprawls over 11 waterfront acres. Last minute shopping before you board the ship.
A GolfAhoy guest tip for taking your libations onboard in your carry on! Pour your bottle of Vodka or Gin into an empty liter Drinking Water bottle. Pour your bottle of Whisky, Bourbon or Brandy into an empty liter Ginger Ale bottle. Caution! Do not use these 'Drinking Water' bottles when taking your pills at bedtime.
Port of Honolulu baggage handlers will transfer your golf bags and luggage. GolfAhoy recommends you tip the port baggage handlers a dollar per bag! Make sure you have attached your cabin number tag to each bag or you might not see your bag or golf clubs until Monday.
Pride of America stewards will transfer your bags to your balcony cabin. Don't expect to see your luggage until after the ship sails at 7:00 pm. GolfAhoy recommends you pack a swimsuit, disguised libations, and medications in your carry-on bag.
Hawaii Islands Golf Cruise NCL Pride of America.
After you've finished check-in procedures in the NCL reception hall board the ship and head for the lunch buffet.
Aloha! Welcome aboard the Pride of America, the only cruise ship that sails roundtrip from Honolulu year-round so you can vacation on your schedule. As you journey from one exotic island to the next, learn about the Hawaiian culture through the eyes of onboard native ambassadors. Island hop Hawaii in style, with more than 15 restaurants and 12 bars and lounges on board, excellent family accommodations, spacious suites, and balconies – all perfect for whale watching, witnessing Kilauea Volcano or taking in the dramatic views of the Napali Coast. Come on a GolfAhoy Hawaii Golf Cruise of a lifetime! GolfAhoy recommends both port and starboard balcony cabins. You won't miss a view in either!
GolfAhoy Golf Course Shore Excursions INCLUDED in this '9 Day Economy Circle Hawaii Golf Cruise with Balcony Cabin' package
GolfAhoy Golf Shore Excursion Packages include
Early morning tee times
Private contracted drivers for golf course transfers
Practice warm up balls at the driving range
Pre-reserved and Pre-paid green fees and cart rental for 18 holes
Sunday GOLF Kapalua Plantation GC
Ranked as the #1 golf course in Hawaii, playing The Plantation Course is on every golfer's bucket list. GolfAhoy has included the best (and most expensive) Championship Hawaii golf courses for you in this package! Designed by Ben Crenshaw and Bill Coore, the course was designed on a grand scale in keeping with its location on the slopes of the West Maui Mountains and offers dramatic ocean views from virtually every hole. Its lengthy 7,411-yard par 73 layout challenges the pros but its wide fairways and generous greens make it very playable for the average golfer. With dramatic elevation changes, this course offers plenty of downhill tee shots. You'll feel like one of the pros when – with the aid of the aggressive slope of the 18th fairway – you will enjoy hitting one of the longest drives of your life. The Plantation Course is the site of the PGA TOUR Tournament of Champions each January featuring an elite field of previous year's PGA TOUR winners. Ask your GolfAhoy agent about our 2019 PGA TOUR Tournament of Champions Hawaii 'Inside the Ropes' or 'Honorary Observer' privileges package PLUS 7 or 10 Day VIP Deluxe Circle Hawaii Islands Golf Cruise | 7 golf rounds included pkg. http://golfahoy.com/golf-cruise/2018-tournament-of-champions-golf-cruise-hawaii
Monday GOLF Wailea Emerald GC
USA's first most women-friendly golf course! Among the world's great golf destinations, few shine as brightly as Wailea. Renowned for its ideal golf weather – typically sunny with gentle breezes – Wailea on the magical island of Maui is rated among the best golf courses in the USA by both Golf Magazine and Golf Digest. Here, you can experience the Wailea Golf Club, whose Championship Emerald course boasts breathtaking ocean views from every hole. The Wailea Emerald Course was designed to be fun for practically every player, the 6,825-yard Wailea Emerald Course was one reason Golf for Women Magazine first granted the Wailea Golf Club a Top Fairways Award for the country's most women-friendly golf club, an honor that the Wailea Golf Club received seven times. Other golf authorities agreed: LINKS Magazine and Golf Digest have also lauded Wailea's picturesque Emerald as a great course for women. Its women-friendly reputation aside, however, the Emerald Course is simply a delightful course for all players. Its carpet-like fairways, fragrant tropical foliage, and numerous ocean and island vistas capture just about everything you could expect from a golf round on gorgeous Maui. While Emerald's friendly fairways are by no means a cakewalk, the course is ideal for players who enjoy the challenge of golf but view it as an enjoyable form of recreation rather than a grueling test of concentration and precision. Memorable holes include #6, a par 4 downhill dogleg, measuring 415 yards from the white tees. There's plenty of landing area for your tee shot, but the green falls off sharply in all directions into grass bunkers, leaving you with a tricky pitch shot if your approach shot isn't on the mark. Hole #11 is the longest on the course, 535 yards from the white tees, and usually into the wind, making it tougher to reach the green. One of the more unusual features of the Emerald Course is the double green shared by holes #10 and #17. The green borders a 2.7 million gallon brackish water lake and is one of the most picturesque spots on the course. The Emerald has four to six tee boxes on every hole, enabling golfers to tailor the course to their skill level. Wailea Emerald Score Card http://www.waileagolf.com/wp-content/uploads/2014/08/Wailea-Emerald-Scorecard.pdf
Wednesday GOLF Mauna Lani GC
Mauna Lani Resort features two championship courses, the Francis H. Iwi Brown North and South. Both Island of Hawaii golf courses offer a challenging experience to novice and professional golfers alike. Mauna Lani was home to the Senior Skins Golf Game for 11 years and now hosts the prestigious Hawaii State Open in December each year. Mauna Lani
VIDEO
Thursday GOLF Poipu Bay GC
Where Champions play! Here, nature and renowned designer Robert Trent Jones Jr. have conspired to create a stunning venue for golfers of all abilities. Play on the same course challenged by even the best of the best professional golfers in the PGA Grand Slam of Golf. A unique and unforgettable golf experience awaits you – one that will bring every aspect of your game into fresh and thrilling focus. More than an award-winning Championship course, Poipu Bay Golf Course offers exceptional amenities such as an in-cart satellite navigation system that tells you the exact distance to the hole and the pin placement, complimentary bottled water and refreshing cold towels. Visit the Golf Shop at Poipu Bay for fashionable logo golf wear after your round and tell them GolfAhoy sent you. Poipu Bay Golf Course VIDEO https://vimeo.com/80025466
Friday GOLF Ocean Course at HōkūalaOne signature Championship hole after another! Here, where the ocean meets the land, is as good as a golfer's life gets. The Ocean Course at Hōkūala has been completely renovated in anticipation of your visit. Winding its way through mango and guava groves to dramatic seaside cliffs, MSN Travel called the Ocean Course at Hōkūala one of the world's twelve most beautiful courses. Its little wonder that the list of accolades for this Jack Nicklaus Signature track is as long as its string of holes that hug the Pacific. This continuous stretch of oceanfront golf is the longest in all of Hawaii and a certain highlight of every visit.
MSN Travel – "World's Most Beautiful Golf Courses"
Zagat Survey – "Extraordinary to Perfection"
Golf Digest – "Best in Hawaii"
Golfweek – "Best Course You Can Play in Hawaii"
Golf World – "Top 50 Golf Resort Destinations in the World"
Travel + Leisure Golf – "Most Underrated Golf Resort in Hawaii"
Leisure & Travel Golf Magazine – "Thrill of a Lifetime Golf Excursion on the GolfAhoy 9 Day Circle Hawaii Golf Cruise"
About your Balcony Cabin on Pride of America
The GolfAhoy '9 Day Economy Circle Hawaii Golf Cruise with Balcony Cabin and 5 Championship course golf rounds included' package come with a standard unobstructed view (no lifeboat hanging outside your balcony) – Balcony Cabin.
These balcony cabins are located either forward or aft. They include two lower beds that convert into a queen-size bed, a sitting area and floor-to-ceiling glass doors that open to a private balcony with a table and two chairs.
Total Approximate Size: 178 sq. ft. Balcony Size: 40 sq. ft.
GolfAhoy package Balcony Cabins are on Decks 7; 8; 9; 10; or 11.
Cabin Categories are BC; BD; BE; or BF.
All balcony cabins on Pride of America are furnished with modern touches, cherry wood finishing, a flat-screen television, radio, phone, mini-refrigerator, coffee maker, a safe, hairdryer, and all have Wi-Fi access. The beds in balcony cabins can be split into two separate twin beds. You'll get Norwegian Cruise Line's LemonGrass products in your bathroom where you will find the lemongrass-scented lotion, soap, shampoo, conditioner, cotton balls and cotton tips.
Dining
COMPLIMENTARY DINING! Every cruise fare includes beautifully crafted menus in the two main dining rooms, a help-yourself buffet and a variety of casual cafés, grills, and on-the-go choices. From fresh-baked loaves of bread, desserts, and pastries to chefs' original dishes made with the freshest ingredients, your dining can be as fine or fun as you want. INCLUDED
Aloha Café This indoor/outdoor buffet-style eatery features food stations where you can order omelets, waffles, fruit, soups, ethnic specialties and pasta. INCLUDED
Cadillac Diner This totally retro 1950's diner has Cadillac seats, plays 50's Rock 'n Roll and offers up a classic menu of burgers, fish and chips, potpies and wok-fast dishes. INCLUDED
East Meets West Enjoy an Asian Fusion dining venue featuring freshly prepared noodles, delicious wok-fried dishes, authentic soups, and more. INCLUDED
Liberty Main Dining Room Dining at the Liberty is guaranteed to be a traditional experience as you step back into America's Colonial days. INCLUDED
Skyline Main Dining Room Inspired by the architecture and skyscrapers of 1930's Manhattan, this Art Deco style restaurant offers a delicious, traditional dining experience. INCLUDED
Room Service Dine in after a day at the pool. Or treat yourself to a continental breakfast in bed. Choose from an extensive menu with complimentary and a la carte items featuring everything from chef-crafted dishes to delicious snacks and treats all freshly-prepared – and delivered to your balcony cabin. Nominal Room Service delivery fee applies.
Specialty Dining Restaurants
Moderno Churrascaria If you're looking for a unique experience, this authentic Brazilian steakhouse is a must. Start with an impressive salad bar of imported cheeses, olives, cured meats, ceviche and specialty salads. Be sure to save room for the delicious skewers of slow-roasted meats including beef, pork, lamb, and chicken – all carved tableside by passadores. Price Per Person: $24.95 USD
Teppanyaki Flying shrimp! Onion volcanoes! Twirling knives! The sizzles and surprises never cease at the authentic Japanese Hibachi restaurant. Sit around a lively shared table as a skillful chef slices, chops and grills steak, seafood and chicken on a large steel grill right before your eyes. A chilled, sake-infused Wasabi Cocktail will have you flipping too. Price Per Person: $29.95 USD
Cagney's Steakhouse Steak is the standard at Cagney's American-style steakhouse. Sip your favorite cocktail as you select from choice cuts of Certified Angus Beef perfectly prepared. Price Per Person: À la carte
Jefferson's Bistro Have it au Poivre or just go straight for the bouillabaisse at the Pride of Americas' signature French restaurant. Elegant interiors and attentive servers make this an intimate dining experience reminiscent of a Parisian café. Price Per Person: À la carte
La Cucina Enjoy the flavors of the Tuscan countryside at tables with room for old friends and new. Dine on classic dishes where you can taste the freshness of every tomato used to make an exquisitely delicious sauce. Try a twist on a classic like shrimp fettuccine, or keep it purist with an Osso Bucco. Just when you think you're out, they'll pull you back in with a toasty espresso and some macadamia nut ice cream. Price Per Person: À la carte
Sushi Bar East Meets West Asian Restaurant also has a Sushi and Sashimi Bar where you can enjoy the very best sushi and sashimi expertly prepared as you watch. Price Per Person: À la carte
88 Hawaii Shore Excursions & Adventures 
Hawaii with Norwegian Cruise Line VIDEO
AARP Member Cruise Deals AARP members receive a 5% discount on any cruise that's booked at least 9 months prior to the sailing date. Plus, receive free stateroom upgrades and save up to $250 on select sailings. Limited time and capacity controlled. Subject to availability.
Exclusive Discounts for Military Personnel GolfAhoy and NCL are proud to offer members of the military and their family's exclusive discounts on select cruise sail dates of up to 10% off. "Thank you for your service!"
Form a Group GolfAhoy groups can be hosted and escorted by a PGA Professional, requires minimum 20 balcony cabins or suites. Small groups require minimum 8 cabins and 16 golfers, double occupancy, to qualify for group discounts and amenities like: private welcome aboard party; 19th hole cocktail party after each golf round; prizes and trophies awarded at private awards dinner; hole in one prizes; logo golf shirts; logo golf caps; and logo golf balls. Amateur golf tournament management services available at each port o' call. Insurance available for $1,000,000 hole-in-one prize. GolfAhoy Group Sales 239.344.9187
GolfAhoy\Ledbetter Hawaii Golf Academy at Sea Golf Cruise David Ledbetter Golf 'Academy at Sea' aboard NCL's Pride of America in Hawaii. Day one starts you off working on the full swing, learning or honing the correct techniques and movements of the golf swing on a golf course (includes 9 holes of golf). Day two spends time focusing on the short game and putting on a golf course (includes 9 holes of golf). Day three you're playing 18 holes like a confident golfer – on a Championship golf course. Since launching the first Leadbetter Golf Academy over 30 years ago, David has coached players to 19 Major Championship titles and over 100 individual worldwide tournament victories. 
"GolfAhoy 7 Day Hawaii Golf Cruises. Golfers going to Hawaii for the first time are rewarded with winning views of different islands and get to play up to five of Hawaii's fabulous golf courses during a seven day Hawaii Golf Cruise." – Leisure & Travel Golf Magazine
Hawaii Islands Golf Cruise NCL Pride of America.
GolfAhoy 9 Day Economy Circle Hawaii Golf Cruise with Balcony Cabin and 5 Championship course golf rounds:
2 Nights at Waikiki Beach Marriott Resort & Spa INCLUDED
Transfers to Pride of America INCLUDED
7 Nights Circle Hawaii Islands Balcony Cabin Cruise INCLUDED
5 Championship golf course 18-hole rounds as shown INCLUDED
Warm up balls and Driving Range INCLUDED
Motorized golf course transportation INCLUDED
All Government Departure Fees, Port Taxes, Hawaii Taxes & Fees INCLUDED
Ask your Pride of America breakfast waiter to bag a fruit and sandwich lunch Go Bag – cash gratuity recommended
9 Day Economy Circle Hawaii Golf Cruise with Balcony Cabin and 5 Championship course golf rounds included package – From US$4969 per person double occupancy low season
If you have an afternoon or early evening return flight to the US mainland then consider one of our Disembarkation Day Options.
Disembarkation Day Option #1 Pearl Harbor & USS Missouri Tour from US$104. Celebrate the honor, valor, and courage of the World War II US servicemen on this special tour. 7 hours, airport drop off.
Disembarkation Day Option #2 Pearl Harbor Tour from US$62. Coach transfer to the scene of the devastating aerial attack by Japan that drove the U.S. into WWII. Board a launch to the Arizona Memorial above the sunken ship that is the final resting place of 1,177 crewmen. 4 hours, airport drop off.
Disembarkation Day Option #3 GOLF 18 holes Ko Olina Golf Club from US$210 + transportation to course and airport drop off. Ko Olina Golf Club is one of Golf Digest's Top 75 Resort Courses in the U.S. Gentlemen's' and Ladies Locker room showers and luggage storage INCLUDED. GolfAhoy limo transportation to Ko Olina and Honolulu Intl Airport INCLUDED.
If you're reading about our GolfAhoy '9 Day Circle Hawaii Golf Cruise with Balcony Cabin | 5 golf rounds included' package – you might also want to consider our five star luxury GolfAhoy 10 Day VIP Deluxe Circle Hawaii Golf Cruise with Butler Service Penthouse Suite | 7 golf rounds included  from US$8,113 per person double occupancy.
Hawaii Islands Golf Cruise NCL Pride of America. 9 Day Economy Circle Hawaii Golf Cruise with Balcony Cabin and 5 Championship course golf rounds included package. From US$4,969 per person double occupancy.
VIDEO LIBRARY Hawaii Islands Golf Cruise NCL Pride of America
NCL Pride of America to Hawaii – Norwegian Cruise Line https://youtu.be/_zasbn-iYss
Pride of America Experience – Hawaii Like on No Other Cruise Norwegian Cruise Line – Cruise Review https://youtu.be/2Mqnx5VeX_E
Pride of America Cruise Ship Tour https://youtu.be/zWWgo6-_Xt8
Norwegian Cruise Line Pride Of America Video Tour Hawaii https://youtu.be/AZt77-tzelk
Pride of America Tour & Review. Accommodations. Norwegian Cruise Line – Cruise Ship Tour & Review https://youtu.be/MZxwa_Q21gY
Pride of America Tour & Review. Entertainment. Norwegian Cruise Line Cruise Ship Tour & Review https://youtu.be/jTE6vCGb-fc
Norwegian Cruise Line https://youtu.be/XW_CxAFiano