Wedding Anniversary Vows Renewal Hawaii Golf Cruises.
12 Day Ultra VIP Deluxe Wedding Anniversary/Vows Renewal Hawaii Golf Cruise | all golf included – exclusive GolfAhoy offer!
GolfAhoy designed their Wedding Anniversary Hawaii Golf & Cruise 12 Day GolfAhoy Five Star Golf Cruise Package to be a once in a lifetime celebration of your years together.
Splurge on the epitome of golf holiday luxury throughout your twelve nights Wedding Anniversary golf and cruise package visiting the Hawaiian Islands. (Available as GolfAhoy Anniversary Gift Certificates) Non-golfing travel companion shore excursion package available! From US$31,690 pp\dbl all-inclusive low season and from US$37,077 pp\dbl all-inclusive high season.
Fly Business\First Class Air LAX to Hawaii
Honolulu Lei Meet & Greet with Chauffeured Limo Hotel Transfer
Sumptuous Suite at the Royal Hawaiian on Waikiki Beach (pre-cruise)
Luxurious Deluxe Owners Suite with Private Butler onboard cruise ship
Nine rounds of Challenging Championship Golf on Hawaii Islands
Your Golf on Oahu. Pre-Cruise. Wedding Anniversary Hawaii Golf & Cruise – Five Star Package. Golf Course Transfers, Pre-Reserved Tee Times, Pre-Paid Green Fees, Cart Rental, included at:
Ko'olina Golf Course
Olomana Golf Links
Waialae Golf Course
Kapolei Golf Club
Ko'Olina Golf Club: Golf Digest named this beautiful 6,867-yard, par-72 course one of "America's Top 75 Resort Courses" when it opened in 1992. The rolling fairways and elevated tees and a few too many water features (always where you don't want them) will definitely improve your game or humble your attitude.
Olomana Golf Links: This gorgeous course in Waimanalo is on the other side of the island from Waikiki. The low-handicap golfer may not find this course difficult, but the striking views of the craggy Koolau mountain ridges are worth the greens fees alone. The par-72, 6,326-yard course starts off a bit hilly on the front 9, but flattens out by the back 9 – which have their own special surprises, including tricky water hazards.
Waialae Golf Course: Home to the SONY Open in Hawaii, Waialae Country Club is one of only 40 country club courses throughout the nation chosen to host a sanctioned PGA Tour event.
Kapolei Golf Club: Home of the Pacific Links Hawaii Championship, Kapolei is a golf journey that will test and charm the best Champions Tour player.
To celebrate GolfAhoy's 27th anniversary in business, the company offers a customized Hawaii golf and cruise holiday that includes air, private limousine airport transfers, five nights in a luxury suite at the The Royal Hawaiian, A Luxury Collection Resort with breakfasts and daily golf included at four prestigious Oahu golf courses – coupled with a seven day circle the Hawaiian Islands golf cruise including an additional five rounds of golf at Maui; Hilo; Kona; and Kauai, accommodations and private Butler services in a luxurious Deluxe Owners Suite aboard the cruise liner Pride of America also included.
The cruise liner overnights in port in Maui as well as Kauai – guests on this fabulous 'Wedding Anniversary Hawaii Golf & Cruise – Five Star Package' get to choose a second round while on either Maui or Kauai. The 12 night GolfAhoy 'Wedding Anniversary Hawaii Golf & Cruise – Five Star Package' is available year round with weekly departures every Monday beginning with a flight in First\Business class from your home town airport to Honolulu on Oahu. You and your significant other are met by a GolfAhoy representative with lei greetings at baggage claim at Honolulu International Airport and escorted via limo transfer to the Royal Hawaiian on Waikiki Beach – emerging from a multimillion dollar re-imagination – The Pink Palace of the Pacific has a radiant new face.
At the Royal Hawaiian – The Pink Palace of the Pacific, on Waikiki Beach, you'll spend five nights in a choice of 'The Ali'i Suite' – in Hawaiian, Ali'i means King, and appropriately, this Suite is the throne of the Pink Palace – or choose The King Kamehameha Suite – it was King Kamehameha who made his home on the very land on which The Royal Hawaiian, a Luxury Collection Resort, proudly stands today.
The Ali'i Suite has been reserved for the elite for centuries and has joined the ranks of the Prestige Suites at The Royal Hawaiian. Offering Waikiki's most majestic views, spanning from Diamond Head Crater across the sparkling Pacific Ocean to Barber's Point, the Ali'i Suite is designed for spacious island living and luxury indulgences. Fully equipped with a large dining table, full kitchen, a glamorous en-suite bathroom and an inviting daybed on the lanai – perfect for spending afternoons with a book or watching the sunset over the Pacific Ocean – the Ali'i Suite is quite literally above and beyond, elite and unparalleled.
The King Kamehameha Suite  Masterful touches of red and yellow – colors of the Hawaiian monarchy – greet you at the door of the resort's majestic King Kamehameha Suite. Step into this captivating space and breathe in the essence of native Polynesia. Tropical wooden floors of teak lead a path to a rich residential living room, ornamented with authentic implements and Hawaiian art. Double doors open to a palatial lanai with an unrivaled view of Diamond Head crater, Waikiki Beach and the sparkling Pacific Ocean. The cloaked interior lanai area is the dramatic setting for outdoor dining, highlighted with elements of the sun and fire. The master bedroom features a regal four-poster bed with signature Luxury Collection bedding and a modern Hawaiian quilt. The master bathroom offers luxurious spa amenities and a seductive soaking tub that looks out over the lanai with a view of the ocean. A sitting area adjoins the master bath and master bedroom, providing an alluring retreat for private reverie or intimate dining. The pinnacle of life's most rare and enriching romance begins in the King Kamehameha Suite. T
The Ali'i Suite and The King Kamehameha Suite personalized concierge services, include:
Assistance with any requests, Oahu sightseeing and activity bookings, Waikiki restaurant reservations, golf lessons, surfing lessons and individual preferences
Transportation Services
In-Room Amenities
Two Royal Monogram Frette Robes
Welcome gift from GolfAhoy
Welcome amenity of Royal Hawaiian Pink Champagne and Fresh Island Fruits
Luxury Collection Services
Royal Signature Banana Bread
Chefs Signature Turn Down Amenities, nightly
French Press Coffee/Tea Service
Breakfast Daily for Two – served through In-Room Dining or at Surf Lanai Restaurant
VIP Suite Guest Beach Services
Two reserved VIP Chaise Lounges on the Royal Guest Beach
Custom Royal Beach Bag
Complimentary Valet Parking – (car rental option add-on available)
Internet Access
Invitation to the Wednesday Night General Manager's Cocktail Reception
Exclusive discount card for Abhasa Spa
ROYAL HAWAIIAN, A LUXURY COLLECTION RESORT FACT SHEET HOTEL NAME: The Royal Hawaiian, a Luxury Collection Resort LOCATION: Set on 14 acres of prime Waikiki beachfront land WEB SITE: http://www.royal-hawaiian.com OPENING DATE: February 1, 1927
PROPERTY HISTORY: The opening of The Royal Hawaiian, a Luxury Collection Resort, ushered in a new era of luxurious resort travel to Hawaii. The hotel was built at a price tag of $4 million. The six-story, 400-room structure was fashioned in a Spanish-Moorish style. The site of The Royal Hawaiian boasts a majestic lineage. The area was used as a playground for King Kamehameha I after he conquered the island of Oahu. Queen Kaahumanu's Summer Palace was previously located in what is now the hotel's Coconut Grove garden. During WWII, The Royal Hawaiian was leased exclusively to the U.S. Navy as a rest and recreation center for the Pacific Fleet. The hotel reopened to the public in February 1947. The inspiring and distinctive character of The Royal Hawaiian, a Luxury Collection Resort is known throughout the world as a destination of unparalleled romance and luxury. The "Pink Palace of the Pacific" recently emerged from a complete renovation as one of the world's elite collection of hotels for luxury and romance. The distinctive architecture and its rosy hue remain, as do the elegant details nod to the hotel's storied past. Now, however, 21st-century upgrades seamlessly meld with the thoughtfully chosen, classic design elements, creating a decidedly chic atmosphere that is still captivatingly Hawaiian. This "reimagined" luxury resort highlights the indigenous culture and history of the islands with its new guest programs, offering authentic and enriching experiences, refined service, and an elevated ambiance of unrivaled facilities and location.
GUEST ROOMS: This historic oceanfront resort features 528 rooms, including 33 suites, 18 oceanfront. The newly designed guestrooms feature vintage koa seating, exotic furnishings, historic photographs, and other indigenous objects d'art. Bathroom floors and shower stalls of sable-colored stone are coupled with dark stained millwork that is both exotic and contemporary. Guest amenities include air-conditioning, color television with remote control, in-room movies, mini refrigerator, coffee maker, regular/decaffeinated Kona coffee, in-room safe, iron and ironing board, hair dryer, electronic room lock system, and basic high speed internet access for $14 + tax/day and premium high speed internet access for $28 + tax/day.
RESORT CHARGE: $35 per room, per day includes the following resort amenities.
GUEST SERVICES: Check-in/check-out services: fresh flower lei for women or kukui nut lei for men upon arrival, banana nut bread arrival amenity, in room video check-out, airport limousine service available upon request for fee, and hospitality suite for early arrivals and late departures. Late check-out fees are followings: 2 p.m. ($75), 4 p.m. ($125), 6 p.m. (price of a half day), and after 6 p.m. (price of a full day).
ROOM SERVICES: Daily newspaper upon request, voice mail message center, and daily maid service.
POOL SERVICES: Lounge chair escort program, cabana program, daily passed oshibori (cold refreshing towel) and fruits, and poolside food & beverage service. Chaise lounge chairs with full beach service and a sun tanning education program are offered at the Royal Beach Club. Guests are also entitled to "stay at one, dine at all" privileges with sister properties in Waikiki – Moana Surfrider, Sheraton Waikiki and Sheraton Princess Kaiulani. Royal Beach Club: privately set cabanas provide yet another exquisite opportunity to explore individual decadence from the exclusive concierge service, to the luxurious appointments, light tasting menu and the unparalleled views of the waters of Waikiki Beach. The Royal Beach Club Chaise Lounge reservation system provides guests the ability to select and reserve their preferred chaise lounges prior to their arrival and ensure reserved seating for the duration of the day. Chaises are available for rent at $40/day and include the following: two chaise lounges, one umbrella, one table, beach boy service, spritz and sun care services, pre-reservation and selection, full day usage.
DINING AND ENTERTAINMENT: Surf Lanai Breakfast 6:30 – 11 a.m. daily Lunch 11:30 a.m. – 2 p.m. daily The Surf Lanai is an upscale, outdoor beachside café located alongside the pool and offers al fresco breakfast and lunch service. The menu features classic dishes with tropical accents presented in a refreshing manner utilizing the freshest farm-to-table ingredients and artisan baked goods. Azure Restaurant Dinner 5:30 – 9 p.m. Azure Restaurant, an oceanfront, dinner-only space is illuminated by candlelight, a mother-of-pearl mosaic wall, and accented by plush banquettes and pillows. Serving only the freshest fruits de mer, from ahi to onaga, Azure's menus highlight locally caught fish selected each morning at daybreak from the Hawaii fish auction and prepared in a high-heat aromatic roasting oven or innovative Hawaiian style served with bright tropical flavors.
Mai Tai Bar Daily 10 a.m. – 12 midnight No visit to The Royal Hawaiian would be complete without having a tropical drink at the world-famous Mai Tai Bar – a sumptuous newly revamped space with a panoramic view of Diamond Head and the shimmering ocean. Nightly entertainment (Tues. – Sun. 6 – 10 p.m.), provided by Hawaii's most talented musicians, makes this venue a favorite among visitors and locals alike.
A Royal Hawaiian Luau, Aha Aina Every Monday 5:30 to 8 p.m. Experience a unique culinary menu and cultural show on The Royal Hawaiian's Ocean Lawn with the breathtaking backdrop of Waikiki Beach and Diamond Head. We pay homage to Helumoa with a modern interpretation of the traditional Hawaiian feast called A Royal Hawaiian Luau, Aha Aina. 24-hour Room Service Breakfast 6 – 11 a.m. All day dining 11 a.m. – 10 p.m. Late night dining 10 p.m. – 6 a.m. Fresh, flavorful culinary creations by Chef Hans Stierli are offered 24 hours a day in the comfort of guest rooms through room service.
SPA Abhasa Spa Daily 9 a.m. – 9 p.m. Abhasa utilizes Hawaii's natural healing environment, promoting the ultimate in beauty and rejuvenation. The luxury resort spa occupies a 7,000 square-foot space in the right wing of the hotel. Abhasa is the only spa on O'ahu offering treatment cabanas in a tropical garden setting. Abhasa Spa features natural and organic treatments to relax and heal the body, mind and spirit, aromatherapy to shiatsu and body wraps, Abhasa pampers and soothes every individual's need with traditional Hawaiian, Japanese, Swedish, and other forms of treatments from around the world. Abhasa Spa experts are specially trained to deliver exceptional spa experiences. Abhasa also offers salon services such as hair care, color and highlighting, make-up applications, waxing, manicures and pedicures. Abhasa's special treatments are body cocoons, anti-aging treatment, facial treatments, body massages, body scrubs, body treatments.
FITNESS CENTER: Conveniently located at the resort's basement level. Open 24-hours a day and accessible with guest room card key.
CULTURE AND ACTIVITIES: Guests have the opportunity to discover something new each day at The Royal Hawaiian by taking part in and learning various cultural activities such as hula lessons, hula therapy, coconut demonstration, ukulele lessons, lauhala basket making, Hawaiian quilting, lei making, and yoga. Activities such as surfing, outrigger canoeing, snorkeling expeditions, scuba diving and sailing catamaran charters may be arranged through the hotel concierge. The resort's Beach Boy program offers canoe rides and surfboard lessons from the beach fronting The Royal Hawaiian.
Surf Lessons and Board Rental Private individual surf lesson – $100/person Private group surf lesson – $75/person (up to four people) Group surf lesson – $60/person (up to four people) Surfboard rental – $20/hour, $70/day Body board rental – $6/hour Paddleboard Lessons and Paddleboard Rental Private individual paddleboard lesson – $100/person Private group paddleboard lesson – $75/person (up to four people) Group paddleboard lesson – $60/person (up to four people) Paddleboard rental – $30/hour Guests will have an opportunity to learn from Hawaii's finest paddleboard instructors about the newest trend in surfing – paddle boarding. Beginners will learn in the calm waters in the channels between surf breaks. Advanced students will have an opportunity to paddleboard and ride waves at some of the world's most revered surf spots in Waikiki.
Outrigger Canoe Surfing 30 minute session – $112.50/canoe 60 minute session – $225/canoe Guests will have an opportunity to experience and share the history and culture of Hawaii's famed canoe.
Beach Boy Valet Six hour session (between 8 a.m. and 5 p.m.) – $325/person For those looking for the ultimate beach experience in Waikiki, the Beach Boy Valet service will provide an assigned "beach boy" to attend to a hotel guest for up to six hours between 8 a.m. and 5 p.m. The beach boy will personally instruct the guest in surfing, canoe riding, sailing, walking/touring along the beach, or just "talking story." The beach boy will arrange, carry and prepare and equipment needed for the choice of activity. In addition, the beach boy will take photos throughout the day of all activities. Catamaran Sailing One hour private sail – $800 (up to 22 passengers) One and a half hour private sunset sail – $1000 (up to 22 passengers) Private catamaran sailing aboard the Kepoikai is available for up to 22 passengers off the shores of Waikiki Beach. Seasonal alcoholic and non-alcoholic beverages are provided aboard the catamaran. Guests will be provided with complimentary photographs of all above listed activities. Video services are also provided for a fee.
Dolphin Connection Starwood Hotels & Resorts Waikiki presents an exclusive opportunity to meet and interact with one of nature's most amazing creatures, the dolphin. Created in partnership with world-class marine center Sea Life Park, the Dolphin Connection by Starwood program offers guests of all ages a once in a lifetime experience to learn about feed, communicating through hand signals, touch and actually the opportunity to interact with these extraordinary ocean mammals.
Royal Beach Tower Pool Open 7 a.m. to 6 p.m. daily Appealing to those guests seeking relaxation and revitalization, The Royal Beach Tower Pool is the perfect retreat spot. Offering a quiet oasis fronting world-famous Waikiki Beach and the sparkling Pacific Ocean, this poolside enclave is lined with luxurious lounge chairs and plush cushions under the shade of deck umbrellas. Royal Beach Tower pool cabanas are available for: Full day price – $175 (7 a.m. – 6 p.m.) Half day price – $100 (7 a.m. – 12 noon or 1 – 6 p.m.) Services and amenities include: four (4) bottled water, market fresh fruit platter, Royal Hawaiian playing cards, facial mister, sunscreen, and complimentary wireless internet access. Helumoa Playground Daily 8 a.m. – 7 p.m. (summer), 8 a.m. – 6 p.m. (winter) Jacuzzi: Daily 8 a.m. – 10 p.m. A new, first-of-its-kind "super pool" featuring two fresh water swimming pools, a 15-foot high by 70-foot long water slide, a staging area for outdoor functions, two large whirlpools with sweeping views of Waikiki Beach, and an interactive fountain area for kids. The Playground also offers chaise water sunning benches and a pool hut where guests may borrow towels and purchase pool goods including sun products, inflatable floatation devices and toys. The pool lies between The Royal Hawaiian and Sheraton Waikiki located on Waikiki's best stretch of beach.
NEARBY RECREATIONAL ACTIVITIES: Hawaiian, a Luxury Collection Resort, is within walking distance from Kapiolani Park, the Honolulu Zoo, and Waikiki Aquarium.
NEARBY SHOPPING Collections of Waikiki: hotel lobby area AREAS: Royal Hawaiian Shopping Center: 2 minute walk International Marketplace: 5 minute walk DFS Hawaii (duty free shopping): 7 minute walk Ala Moana Center: 15 minute city bus ride Ward Warehouse: 20 minute city bus ride.
MOVIES FILMED ON-PROPERTY: "The Black Camel" (1931) "Wings Over Honolulu" (1938) "Million Dollar Weekend" (1948) "Big Jim McLain" (1952) "Gidget Goes Hawaiian" (1961) "Hawaii Five-0" (1968-1980) "Flirting with Forty" (2008) Royal Hawaiian Luxury Collection Resort.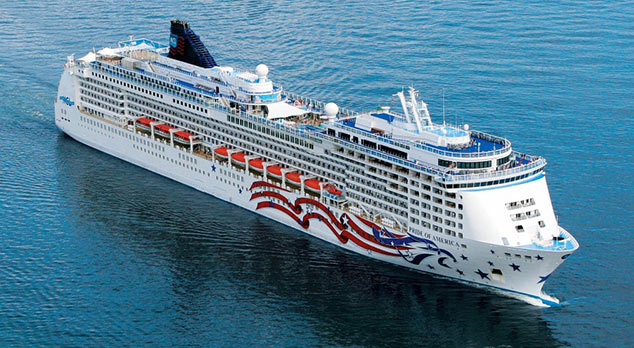 VIDEO Hawaii Golf Cruise – Deluxe Owners Suite
Deluxe Owners Suite VIDEO NCL Pride of America – 7 Day Circle Hawaii Golf Cruise Saturday afternoon you'll transfer from the Royal Hawaiian to the Port of Honolulu Cruise Terminal to board the NCL Pride of America (VIP Priority boarding reception area for Suite guests and Platinum key card for special VIP ship-wide recognition) Your Suite Butler will serve you champagne at check-in and escort you to your Deluxe Owner's Suite, your home for the next seven days aboard the Pride of America. (Built: 2005 Gross Tonnage: 81,000 Overall Length: 921 feet Beam: 105 feet Draft: 26 feet Engines: Diesel Electric Cruise Speed: 22 knots Guests: 2,138 Crew: 935).
Your Deluxe Owner's Suite has a large oversized balcony with a hot tub and outdoor dining area, living room with baby grand piano, two TVs, private in-Suite dining room, separate bedroom with a king-size bed and walk-in-closet, luxury bath with whirlpool tub and separate shower and a guest bathroom. (Total Approx. Suite Size: 1382 sq. ft. Balcony Size: 490 sq. ft.)
With 10 dining options, Pride of America offers a genuine Hawaiian culinary experience by serving local Hawaiian cuisine such as Pineapple Beurre Blanc with fresh caught seafood. Your Deluxe Owner's Suite Butler can arrange to have breakfasts, lunches and dinners served course by course in the comfort of your own Suite dining room or outdoor balcony dining table.
Norwegian's signature Freestyle Cruising concept means you can dine anytime you want, with whomever you choose. To that end, the ship has nine restaurants, including two main dining rooms, the casual buffet-style Aloha Cafe and the no-charge Cadillac Diner.
Five specialty restaurants levy a surcharge. Reservations are recommended if you have your heart set on dining at a certain venue at a specific time.
Your Deluxe Owner's Suite Butler can make your specialty restaurant VIP reservations for you.
The main dining rooms, Liberty and Skyline, are located aft, one above the other. Both carry through the Americana themes, with Skyline serving as a Deco-version of New York City and Liberty paying homage to American patriotism. Both have pianos, and occasionally a musician will provide background music for your dinner. Liberty is open for dinner only, 5:30 p.m. to 9:30 p.m., though hours might vary slightly. Skyline serves breakfast from 7 a.m. to 9 a.m. and dinner from 5:30 p.m. to 9:30 p.m. Skyline also offers lunch from noon to 2 p.m. on embarkation day and the final afternoon (Friday). Both restaurants offer basically the same menu. One side of the menu changes daily and this page is where you'll find more regional fare. On the other side, unchanging core entrees include beef rib-eye or New York strip steak, pork tenderloin medallions, grilled chicken breast, braised lamb shank, filet of salmon and pasta. Menus indicate healthier choices and items that contain undercooked meat or fish (like salmon tartar). Low-carb, heart-healthy, Kosher and other special diets can be accommodated in the two main dining rooms with advance notice. Vegetarian items are always available. The Aloha Cafe, Pride of America's Lido Deck restaurant, is set up with self-serve stations for breakfast (5:30 a.m. to 9:30 a.m.), lunch (noon to 3 p.m.), snacks (3 p.m. to 5 p.m.) and dinner (6 p.m. to 9 p.m.). Additional no-fee buffet breakfast options are available in Moderno (buffet 7 a.m. to 10:30 a.m., continental 10:30 a.m. to 11:30 a.m.). The full breakfast includes French toast, waffles, pancakes, Eggs Benedict, made-to-order omelets, bacon, sausage, fresh fruit, hot and cold cereals, yogurt and pastries. Lunch and dinner feature hot entrees like Spanish chicken with chorizo, and shrimp and scallop paella; Asian fare like veggie stir-fry and Kung Pao chicken; and a selection of individually sized salads (Caprese, Cobb, Calamari). There is usually a carving board with meats like prime rib, as well as made-to-order pastas and a couple of soups. You'll find pizza, sandwiches, hot dogs and burgers at lunch. There's also a fruit and cheese buffet, an ice cream stand and a dessert bar that offers everything from Jell-O and no-sugar-added strawberry Napoleon with raspberry coulis to ricotta cheesecake with lemon honey syrup and Italian cassata cake. The no-charge Cadillac Diner – a favorite for a basic breakfast, family lunching, early dining and late-night snack – is located on Deck 6 with access to limited outside seating. There, oldies play on the radio, pictures of Elvis adorn the walls, and the center booths are done up to look like a classic '50s car. The diner's hallmark is comfort food, such as slow-roasted meatloaf, grilled burgers and English-style fish and chips. It also has a kids menu, and milkshakes are available. The super-casual Key West Grill above the pool on Deck 12 serves steam-table burgers and hot dogs from 1 p.m. to 6 p.m. The aforementioned restaurants are all included in the cruise fare; Pride of America offers five additional venues that carry a surcharge. These alternative restaurants, each with a culinary specialty, are open for dinner from 6 p.m. to 9 p.m.
One of the most popular spots on all Norwegian's ships is the French-influenced Bistro – named the Jefferson Bistro on Pride of America – and designed like a little slice of the library in Monticello. For $20, you can dine on French-inspired cuisine, and, for $10 apiece more, you can add on "fruits de mer" in a puff pastry, a butter-roasted lobster tail or a 32-ounce premium Black Angus rib-eye steak.
Cagney's Steakhouse is Norwegian's signature meat and seafood venue with an old Hollywood feel. Menu items include butter-soft filet mignon, double cut lamb chops, a 16 ounce rib eye and truffle chicken. Also offered is an array of sauces: béarnaise, green peppercorn, chimichurri and port wine jus. The surcharge is $30, with a $10 add-on for any additional entrees ordered.
East Meets West is a gathering place for several types of Asian-inspired cuisine, including Asian fusion sushi, shabu-shabu (where you cook your own meat in boiling water) and teppanyaki. Teppanyaki is a selection of meat, poultry, fish and veggies prepared table-side by a slicing, dicing and juggling chef. East Meets West and the sushi bar are open from 6 p.m. to 9 p.m., while Shabu-Shabu and Teppanyaki are set seating's (6 p.m. and 8 p.m. for the former and 5:30 p.m., 7:30 p.m. and 9:30 p.m. for the latter). Teppanyaki is a huge crowd pleaser.
La Cucina on the Lido Deck behind the Aloha Cafe is the ship's Italian venue. At $15 per person, the menu evokes New York's Little Italy with crowd favorites like fried calamari, spaghetti carbonara, chicken parmesan and freshly prepared pizza.
Moderno Churrascaria is the ship's Brazilian steakhouse. For $20, you can eat all the veggies, soup, sliced meats and cheeses you want from a robust salad bar and all the beef, lamb, chicken and pork you can manage from skewers brought to your table from roving waiters.
Hawaii Islands Golf  Wedding Anniversary Hawaii Golf & Cruise – Five Star Package
Golf Excursion Itinerary:
Day
Port
Arrive
Depart
Saturday
Honolulu, Oahu
– –
7:00 PM
Sunday
Maui, Hawaii    *GOLF
8:00 AM
Overnight
Monday
Maui, Hawaii    *GOLF
–
6:00 PM
Tuesday
Hilo, Hawaii
8:00 AM
6:00 PM
Wednesday
Kona, Hawaii    *GOLF
7:00 AM
6:00 PM
Thursday
Kauai, Hawaii   *GOLF
8:00 AM
Overnight
Friday
Kauai, Hawaii   *GOLF
–
2:00 PM
Saturday
Honolulu, Oahu
7:00 AM
*GOLF Courses:
Consistently ranked as the #1 golf course in Hawaii, playing The Plantation Course is on every golfer's bucket list. Designed by Ben Crenshaw and Bill Coore, the course was designed on a grand scale in keeping with its location on the slopes of the West Maui Mountains and offers dramatic ocean views from virtually every hole. Its lengthy 7,411 yard par 73 layout challenges the pros but it's wide fairways and generous greens make it very playable for the average golfer. With dramatic elevation changes, this course offers plenty of downhill tee shots. You'll feel like one of the pros, when – with the aid of the aggressive slope of the 18th fairway – you will enjoy hitting one of the longest drives of your life. The Plantation Course is the site of the PGA TOUR Hyundai Tournament of Champions each January featuring an elite field of previous year's PGA TOUR winners. The field has included golf greats such as Tiger Woods, Vijay Singh, Justin Leonard, Ernie Els, Davis Love III and many more. The course record is 62 set by K.J. Choi in 2003 at the Mercedes-Benz Championship and Graeme McDowell at the 2011 Hyundai Tournament of Champions.
The home course of The Champions Skins Game from 2001 to 2007, the 7,078-yard Wailea Gold is a masterfully designed layout. Its strategic and rugged design takes advantage of the terrain's natural undulations and phenomenal ocean vistas, but four to six tee boxes built into every hole makes it a suitable track for virtually every player. Shortly after opening in 1994, the Wailea Gold was named by both Golf Magazine and Golf Digest as one of the country's 10 best new resort courses. It was also hailed as one of the world's best designed courses by the readers of Conde Nast Traveler in the magazine's first golf resorts poll. In more recent years, the Gold Course has collectively been honored dozens of times by Golf Magazine, Golf Digest, Golfweek, Gayot and Zagat. Local readers of The Maui News voted it one of their top choices in the "Best Golf Course" category. The Wailea Gold was created by architect Robert Trent Jones II, and has been called a "thinking player's course," offering a true test of one's golf skills. Strategy and finesse are important to playing the Gold well, and the course's intriguing risk-reward choices makes it possible to use every club in your bag. Perhaps the most difficult hazards on the Wailea Gold, however, are the distracting island views. Gold #8 is a prime example. This par-3 beauty has golfers teeing off toward an unbeatable view of the ocean and little Molokini, a crescent shaped islet and one of Maui's most popular snorkeling spots. Juxtaposed between the tee boxes and the fairway is a dark papohaku wall, and the verdant green is ringed by coconut trees and a sparkling white bunker. It's hard to imagine a more picturesque Hawaiian vista.
Mauna Lani Resort South Course, renown as the former home to the annual Senior Skins Game from 1990 – 2000, snakes through the stark, rugged a'a lava of the prehistoric Kaniku lava flow. The challenging South Course offers the golfer a panorama of mountain and ocean views. The South Course is also home to No. 15, one of the most photographed over-the-water golf course holes in the world. Moana Kea. "Mr. Rockefeller, if you allow me to build a golf course here, this'll be the most beautiful hole in the world." Robert Trent Jones, Sr., at the 3rd hole site. Without changing the essential character of his father's design, Rees Jones Inc. re-planted the championship Course with highly efficient ultra-dwarf TifEagle Bermuda grass on the greens and Tifway 419 hybrid Bermuda grass on the tees, fairways and roughs. State-of-the-art irrigation systems, liners in the bunkers, and advance drainage improvements keep our Hawaii golf course in top shape and save on environmental resources. As for play, the number of bunkers has been increased to 99, overall yardages have expanded by about 200 yards from the tips, and multiple tees will challenge all levels of players.
Thursday Kauai TBA new course replacing The Prince Golf Course effective 06/01/2015
The Princeville Resort is home to the multi-award winning Kauai golf courses. Designed by Robert Trent Jones, Jr. who brilliantly integrated the wild beauty of the north shore of Kauai. Taking advantage of wilderness areas, natural water features and the dramatic coastline, the course wind their way through magnificent stands of trees and rolling landscape and always, views that will astonish you with their unforgettable beauty. Even if you don't play golf, it would be more than worth your while to rent some clubs and shoes and take a stab at and no doubt have the time of your life. But do bring a camera with you because you could use up an entire role of film, chip or video taking shots all over the amazing course. It's been said that even if it's raining, golfers will still go out on the course and if they lose a ball, they don't really care, because the experience of playing here is so fantastic and memorable, what's a drop of rain or two or some lost balls?
18 holes, par 72, 7156 yards. Hōkūala is a lush, 750-acre resort carefully secluded in the southwest corner of the island of Kauai in Hawaii. Fairways weave through mango and guava tree forests, along imposing ocean cliffs and over promontories high above the harbor, and among some forty acres of fresh water lagoons that wind their way throughout the resort. It is said that when legendary golfer and architect Jack Nicklaus created the original Kiele Course in the late 1980's, the terrain lent itself so well to his vision that he made but a single change to his original design. In 2011, Jack Nicklaus was again called upon. This time to redesign the back nine of his famed Kiele course. Included are all new greens, new white silica sand bunkers, and three new holes. One is a new ocean hole that is now the centerpiece of what is the longest stretch of continuous ocean holes of any course in Hawaii. Four fabulous holes providing over 1/2 mile of unobstructed oceanfront.
From US$31,690 pp\dbl all-inclusive low season and from US$37,077 pp\dbl all-inclusive high season.