NEW for late 2020 and 2021 and beyond package info click here Anniversary Golf Vacation 9 Day Hawaii Islands Golf Cruise Balcony Cabin
Click the above link for our new 7 Day Hawaii Islands Golfing Cruise digital brochure.
7 Day Hawaii Golfing Cruise offered by GolfAhoy with weekly sailings year-round every Saturday from Honolulu, Oahu, Hawaii, with 5 optional a la carte golf course shore excursions.
Lead-in Cabin Accommodations Interior Category from US$1,249 per person based on double occupancy + golf course shore excursion options. Balcony Cabins from US$2,049 pp\dbl and Suites from US$3,949 pp\dbl subject to availability on the day of booking.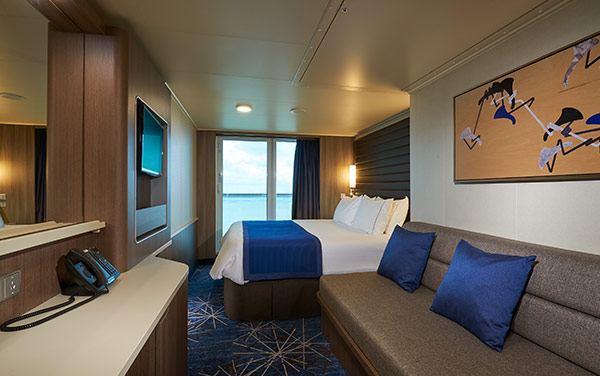 NEW SINGLE OCCUPANCY STUDIO CABINS
Studio Cabins. Studios from US$2,099 – Single Occupancy. Very limited availability. Book a year in advance. Studios are the first accommodations specifically designed and priced for solo travelers. They are an industry first, giving solo cruisers the most affordable and stylish way to cruise. As a Studio guest, you will have exclusive key card access to the Studio Complex and Studio Lounge. This shared private area is where you can stretch out, have a drink, order room service, watch the big-screen TV and meet your single golf cruiser neighbors.
Add to booking 5 rounds GolfAhoy Hawaii Islands Golf Excursion package priced from US$2,099 per golfer.
The 5 Golf Courses
Sunday GOLF Kapalua Plantation GC or The Bay Course at Kapalua 
Ranked as the #1 golf course in Hawaii, playing The Plantation Course is on every golfer's bucket list. Designed by Ben Crenshaw and Bill Coore, the course was designed on a grand scale in keeping with its location on the slopes of the West Maui Mountains and offers dramatic ocean views from virtually every hole. Its lengthy 7,411-yard par 73 layout challenges the pros, but its wide fairways and generous greens make it very playable for the average golfer. With dramatic elevation changes, this course offers plenty of downhill tee shots. You'll feel like one of the pros when – with the aid of the aggressive slope of the 18th fairway – you will enjoy hitting one of the longest drives of your life. The Plantation Course is the site of the PGA TOUR Tournament of Champions each January featuring an elite field of previous year's PGA TOUR winners.
Monday GOLF Wailea Emerald GC
USA's first most women-friendly golf course! Among the world's great golf destinations, few shine as brightly as Wailea. Renowned for its ideal golf weather – typically sunny with gentle breezes – Wailea on the magical island of Maui is rated among the best golf courses in the USA by both Golf Magazine and Golf Digest. Here, you can experience the Wailea Golf Club, whose Championship Emerald course boasts breathtaking ocean views from every hole. The Wailea Emerald Course was designed to be fun for practically every player, the 6,825-yard Wailea Emerald Course was one reason Golf for Women Magazine first granted the Wailea Golf Club a Top Fairways Award for the country's most women-friendly golf club, an honor that the Wailea Golf Club received seven times. Other golf authorities agreed: LINKS Magazine and Golf Digest have also lauded Wailea's picturesque Emerald as a great course for women. Its women-friendly reputation aside, however, the Emerald Course is simply a delightful course for all players. Its carpet-like fairways, fragrant tropical foliage, and numerous ocean and island vistas capture just about everything you could expect from a golf round on gorgeous Maui. While Emerald's friendly fairways are by no means a cakewalk, the course is ideal for players who enjoy the challenge of golf but view it as an enjoyable form of recreation rather than a grueling test of concentration and precision. Memorable holes include #6, a par 4 downhill dogleg, measuring 415 yards from the white tees. There's plenty of landing area for your tee shot, but the green falls off sharply in all directions into grass bunkers, leaving you with a tricky pitch shot if your approach shot isn't on the mark. Hole #11 is the longest on the course, 535 yards from the white tees, and usually into the wind, making it tougher to reach the green. One of the more unusual features of the Emerald Course is the double green shared by holes #10 and #17. The green borders a 2.7-million-gallon brackish water lake and is one of the most picturesque spots on the course. The Emerald has four to six tee boxes on every hole, enabling golfers to tailor the course to their skill level.
Wednesday GOLF Mauna Lani GC or Mauna Kea GC
Mauna Lani Resort features two championship courses, the Francis H. Iwi Brown North and South. Both Island of Hawaii golf courses offers a challenging experience to novice and professional golfers alike. Mauna Lani was home to the Senior Skins Golf Game for 11 years and now hosts the prestigious Hawaii State Open in December each year.
Thursday GOLF Poipu Bay GC
Where Champions play! Here, nature and renowned designer Robert Trent Jones Jr. have conspired to create a stunning venue for golfers of all abilities. Play on the same course challenged by even the best of the best professional golfers in the PGA Grand Slam of Golf. A unique and unforgettable golf experience awaits you – one that will bring every aspect of your game into a fresh and thrilling focus. More than an award-winning Championship course, Poipu Bay Golf Course offers exceptional amenities such as an in-cart satellite navigation system that tells you the exact distance to the hole and the pin placement, complimentary bottled water and refreshing cold towels. Visit the Golf Shop at Poipu Bay for fashionable logo golf wear after your round and tell them GolfAhoy sent you.
Friday GOLF Ocean Course at Hōkūala
One signature Championship hole after another! Here, where the ocean meets the land, is as good as a golfer's life gets. The Ocean Course at Hōkūala has been completely renovated in anticipation of your visit. Winding its way through mango and guava groves to dramatic seaside cliffs, MSN Travel called the Ocean Course at Hōkūala one of the world's twelve most beautiful courses. Its little wonder that the list of accolades for this Jack Nicklaus Signature track is as long as its string of holes that hug the Pacific. This continuous stretch of oceanfront golf is the longest in all of Hawaii and a certain highlight of every visit.
MSN Travel – "World's Most Beautiful Golf Courses"
Zagat Survey – "Extraordinary to Perfection"
Golf Digest – "Best in Hawaii"
Golfweek – "Best Course You Can Play in Hawaii"
Golf World – "Top 50 Golf Resort Destinations in the World"
Travel + Leisure Golf – "Most Underrated Golf Resort in Hawaii"
Leisure & Travel Golf Magazine – "Thrill of a Lifetime Golf Excursion on the GolfAhoy 9 Day Circle Hawaii Golf Cruise"
iGolfTravelNews Blog – "At $265 + Transportation a Steal of a Deal"
Pride of America Dining
COMPLIMENTARY DINING! Every cruise fare includes beautifully crafted menus in the two main dining rooms, a help-yourself buffet and a variety of casual cafés, grills, and on-the-go choices. From fresh-baked loaves of bread, desserts, and pastries to chefs' original dishes made with the freshest ingredients, your dining can be as fine or fun as you want. INCLUDED
Norwegian Cruise Line Freestyle Dining.
Only Norwegian Cruise Line offers the freedom and flexibility of Freestyle Dining, which means no fixed dining times or pre-assigned seating. Enjoy a four-course meal and a great bottle of wine. Or grab a burger hot off the grill. Dress up. Dress down. Sit with your friends or make new ones. Dine inside or oceanside along The Waterfront. Since Norwegian Cruise Line is the only cruise line with a fleet of ships specially built with restaurants from bow to stern, you can enjoy more dining options than days of your cruise.
Aloha Café This indoor/outdoor buffet-style eatery features food stations where you can order omelets, waffles, fruit, soups, ethnic specialties, and pasta. INCLUDED
Cadillac Diner This totally retro 1950's diner has Cadillac seats, plays 50's Rock 'n Roll and offers up a classic menu of burgers, fish and chips, potpies and wok-fast dishes. INCLUDED
East Meets West Enjoy an Asian Fusion dining venue featuring freshly prepared noodles, delicious wok-fried dishes, authentic soups, and more. INCLUDED.
Asian Fusion Complimentary Dining.
Get your chopsticks ready for the exotic flavors of the Far East with Chinese and Pan-Asian cuisine on Pride of America, including a variety of sushi rolls and a delicious Noodle Bar.
Liberty Main Dining Room Dining at the Liberty is guaranteed to be a traditional experience as you step back into America's Colonial days. INCLUDED
Skyline Main Dining Room Inspired by the architecture and skyscrapers of 1930's Manhattan, this Art Deco style restaurant offers a delicious, traditional dining experience. INCLUDED
Room Service Dine in after a day at the pool. Or treat yourself to a continental breakfast in bed. Choose from an extensive menu with complimentary and a la carte items featuring everything from chef-crafted dishes to delicious snacks and treats all freshly-prepared – and delivered to your balcony cabin. The nominal Room Service delivery fee applies.
Moderno Churrascaria
If you're looking for a unique experience, this authentic Brazilian steakhouse is a must. Start with an impressive salad bar of imported cheeses, olives, cured meats, ceviche, and specialty salads. Be sure to save room for the delicious skewers of slow-roasted meats including beef, pork, lamb, and chicken – all carved tableside by passadores. Price Per Person: $24.95 USD
Teppanyaki
Flying shrimp! Onion volcanoes! Twirling knives! The sizzles and surprises never cease at the authentic Japanese Hibachi restaurant. Sit around a lively shared table as a skillful chef slices, chops and grills steak, seafood and chicken on a large steel grill right before your eyes. A chilled, sake-infused Wasabi Cocktail will have you flipping too. Price Per Person: $29.95 USD
Cagney's Steakhouse
Steak is the standard at Cagney's American-style steakhouse. Sip your favorite cocktail as you select from choice cuts of Certified Angus Beef perfectly prepared. Price Per Person: À la carte. Tip – don't forget to order the famous truffle fries.
Jefferson's Bistro
Have it au Poivre or just go straight for the bouillabaisse at the Pride of Americas' signature French restaurant. Elegant interiors and attentive servers make this an intimate dining experience reminiscent of a Parisian café. Price Per Person: À la carte.
La Cucina
Enjoy the flavors of the Tuscan countryside at tables with room for old friends and new. Dine on classic dishes where you can taste the freshness of every tomato used to make an exquisitely delicious sauce. Try a twist on a classic like shrimp fettuccine or keep it purist with an Osso Bucco. Just when you think you're out, they'll pull you back in with a toasty espresso and some macadamia nut ice cream. Price Per Person: À la carte. Italian Fare Specialty Dining. Enjoy the finest ingredients at this vibrant Italian restaurant on Pride of America. Dine on classics like pasta carbonara or lobster fettuccine. Then indulge in the affogato.
Teppanyaki Specialty Dining.
The sizzles and surprises never cease at Teppanyaki, an authentic Japanese Hibachi restaurant. Sit at a lively shared table as a skillful chef perfectly grills steak, seafood, and chicken on a large steel grill.
Lead-in Cabin Accommodations Interior Category from US$1,249 per person based on double occupancy. Balcony Cabins from US$2,049 pp\dbl low season subject to availability on the day of booking.