NEW for River Danube Golf Cruises Austria, Chez Republic, Germany, Hungary, Slovakia.
7 Night Danube River Cruise Cabin Accommodations from US$3,100 pp\dbl Category E.
Danube River Vineyards Wine Tastings and Golf Cruise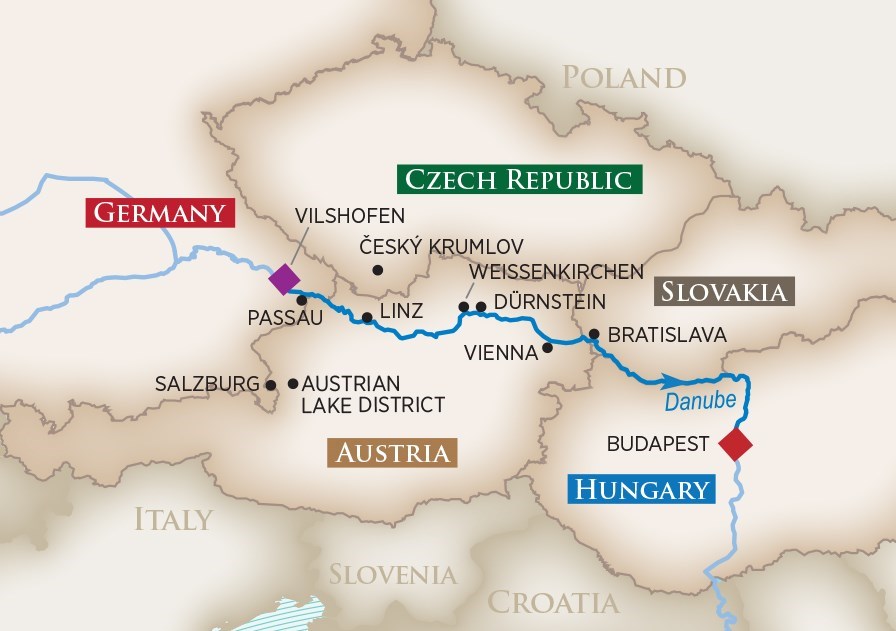 Prague to Budapest | Danube River | 7 Day Cruise + 3 Day pre-cruise Prague | Cat AB Outside Balcony published cruise fare from $5198 pp\dbl SAVE $750 pp  SAVING CRUISE FARE = $4448 pp after discount applied | 3 Day pre-cruise Prague hotel accommodations & tours add from $840 pp\dbl
These are primarily our GolfAhoy WINE TASTING CRUISE ADVENTURES! Optional GolfAhoy golf excursions offered, 1 to 5 European Championship Courses to choose from. Club rentals, gloves, shoes, rain gear also available through your GolfAhoy travel counselor.
WINE CRUISE | Prague to Budapest. Danube River. Please note: This Wine Cruise itinerary is modified and will not visit Bratislava. Instead of visiting Bratislava, guests will enjoy visiting the charming winemaking town of Gobelsberg.
This special Wine Cruise offers guests a perfect blend of wine-related experiences and excursions in grand capitals and charming towns. Discover how wine is made and, of course, partake in tastings – all at no additional cost.
HOSTS | Hosted by Bo & Heidi Barrett, Bo is CEO of Chateau Montelena and Heidi is owner and winemaker of La Sirena Winery.
Since 1972, Bo Barrett, Master Winemaker of Chateau Montelena, has been involved in every vintage.
Decades of experience & intimate knowledge of the Estate vineyard allows him to consistently produce world-class wines, at an American First Growth.
Heidi Peterson Barrett is one of the world's most renowned and respected winemakers.
She has created some of the Napa Valley's most famous wines, including Screaming Eagle, & Dalla Valle.
She started her own, La Sirena, in 1994, and Barrett & Barrett with her husband Bo in 2010.
Best known for perfectly balanced, elegant Cabs, she has international acclaim for many different wines.
At the Paris Tasting of 1976, where four white Burgundies were tasted against six California Chardonnays, Chateau Montelena's 1973 Chardonnay triumphed & shocked the world.
The results proved that Chateau Montelena & Napa could produce some of the world's finest wines.
WINE CRUISE | Prague to Budapest | Danube River
HOST | Hosted by Michael (Mike) Lewellen, Managing Partner at Lucas & Lewellen Winery, Solvang, CA.
Founded by retired Judge Royce Lewellen, and long-time grape grower Louis Lucas in 1996, Lucas & Lewellen Vineyards has been producing fine grapes and wine for many years.
Royce's son Mike Lewellen became a minority owner of the company in 1999 and joined the company full-time in 2009 to help manage the operation as it grows into the future.
As Managing Partner, Mike carries out business planning and analysis and works with all departments at the winery; Marketing & Sales, Finance, the Tasting Rooms, and of course the Winery.
Prior to Lucas and Lewellen, Mike worked for over 16 years in the multi-channel retail business. Working at different times as Marketing Director, Circulation Manager, and Inventory Planner, he gained valuable experience that he has applied toward the wine business.
Mike was raised in Solvang, California near the vineyards, has a B.A. in Political Science from the University of Colorado, a Professional Designation in Business Management from UCLA, and has furthered his wine education through programs at U.C. Davis.
About the Wine Region – Wachau Valley
Brilliant architectural masterpieces and vine-strung hillsides on the Danube River have inspired artistic creations for hundreds of years. The Romantic Danube journeys through Germany, Austria, Slovakia and Hungary, so you can experience some of the most celebrated wines and sights in Europe's heartland.
Over 3,700 acres of terraced vineyards rise from Austria's illustrious Wachau Valley. Located between the towns of Melk and Krems, this cooler-climate wine region brings a wide variety of refreshing, peppery white-grape wines to fruition. Grüner Veltliner is considered to be the most important grape in Austria. Grown in loess soils by the river's edge, these favored wines offer aromatic stone fruit flavors reminiscent of the terroir. Riesling, the second most popular grape, loves rocky inclines, so it is extensively sewn into the rich hillside. Fruity notes and floral scents surface from these unique whites.
Vilshofen   EMBARKATION Exclusive Oktoberfest Welcome Aboard Wine Toast. Embark your cruise in Vilshofen and attend an exclusive Oktoberfest celebration with traditional beer and Bavarian folk music and dancing. Afterward, enjoy a welcome aboard wine toast with your fellow passengers.
Vilshofen-Passau "City of Three Rivers" walking tour OR Passau Castle hike OR Danube Bike tour. Explore Vilshofen's beautiful old town before cruising to Passau, known as the "City of Three Rivers." Join a walking tour or if you prefer to be more active, hike high into the hills for a visit to the "Veste Oberhaus," Passau's Castle Hill. (B,L,D)
Linz "UNESCO City of Media Arts" walking tour OR Full-day Salzburg "Cultural Mile" bike tour. Half-day Salzburg excursion OR Český Krumlov excursion OR Austrian Lake District excursion. The ship arrives in Linz where you'll have several choices of excursions. Opt for a full-day excursion to Salzburg where you'll tour the historic center, Mirabell Gardens, Residenz Square and the Old Market. En route to Salzburg, stop at Mondsee, home of the famed Basilica St. Michael and site of the wedding scene in "The Sound of Music." Alternatively, you can join a morning walking tour through Linz's old city center and by the Mozart House; or go on a guided bike tour along the city's famed "Culture Mile" and the Danube. During the afternoon, you have three more choices of excursions. Choose a half-day in Salzburg or take a scenic drive through the beautiful Austrian Lake District with a stop in St. Wolfgang. You can also choose to visit the charming mountain town, Český Krumlov, located just over the Czech-Austrian border. (B,L,D)
Wachau Valley Scenic cruising Weissenkirchen Dürnstein walking tour and Weissenkirchen wine tasting OR Dürnstein fortress hike. Cruise to Weissenkirchen, gateway to Dürnstein located in the heart of the Wachau Valley. Once here, you can choose to join a walking tour in Dürnstein along its cobblestone streets to the Baroque Stiftskirche, Dürnstein's famed church tower, and savor a tasting of the region's renowned wines. Or for the more active adventurer, hike up to the fortress where Richard the Lionheart was once held. (B,L,D)
Weissenkirchen Melk Abbey OR Danube bike tour Krems Schloss Gobelsburg cellar tour and tasting. Journey to Melk to tour its magnificent Benedictine Abbey, a UNESCO World Heritage Site. Overlooking the Danube River, Melk Abbey is one of Europe's largest and most revered monasteries with stunning Baroque architectural details and numerous frescoes and religious artifacts. Alternatively, take a bike tour along the Danube River, soaking in views of the serene Wachau Valley. Later in the evening, be treated to a special cellar tour and wine tasting of locally grown, world-renowned Riesling and Grüner Veltliner at the acclaimed Schloss Gobelsburg, which has a documented viticulture history dating back to the 12th century. (B,L,D)
Vienna "Imperial Vienna" tour OR Sacher and Sekt OR Alte Donau bike tour. Experience the regal elegance of Vienna with one of three different excursions. Join a city tour that takes you by the majestic Opera House and the former Imperial Palace of the Habsburg Emperors. Afterward, visit Vienna's historic city center, a UNESCO World Heritage Site, and see St. Stephen's Cathedral and the world famous Spanish Riding School. Alternatively, join an exclusive tour to a famous Viennese café for a taste of sachetorte, a sinfully rich chocolate cake, and sekt, an Austrian sparkling wine. For those who prefer to get more active, you can cycle along the Danube and through the Donaupark. During the afternoon, enjoy free time or bike to the majestic twelfth-century Klosterneuburg Monastery. (B,L,D)
Budapest "Queen of the Danube" tour OR Castle Hill hike. Illuminations Cruise. Experience Budapest in one of two ways: on a city tour or a hike. Your city tour begins with a visit to the vibrant Great Market Hall brimming with vendors selling everything from food to souvenirs. The remainder of this tour takes you to both the Buda (hilly) and Pest (flat) sides of the river. As an alternative choice, hike up to Castle Hill for breathtaking views of the city below. Spend your last evening on board cruising around the famed Parliament Building as the city turns on all her dazzling lights. (B,L,D)
Budapest DISEMBARKATION Disembark the ship as you prepare for your flight home. (B)
About AmaWaterways WINE CRUISES (Wine Tastings INCLUDED)
Imagine toasting to the good life aboard an AmaWaterways river cruise. Amid a backdrop of Europe's most regal castles, historic ruins and vineyard-laced hills, all the while tasting world-class wines sourced from the very spots you're traveling through.
Wine hosts and sommeliers will share their passion for viticulture through discussions and wine tastings on board. On shore, the insightful wine host—always a professional winery owner, winemaker, wine instructor or certified sommelier from renowned North American wineries—will lead guests through discussions and wine tastings on board, accompanying you to local wineries and vineyards where you'll learn first-hand from regional European experts.
And all of this comes at no extra cost. Whether guests are a wine novice or a self-described oenophile with their own home wine cellars, this is the perfect chance to indulge in one of the world's most perfect pairings: travel, wine and elegant cuisine (and some fabulous golf along the way as an optional add-on).
From romantic cities to foodie havens, the Douro Valley to the Wachau Valley, France's iconic Bordeaux region to the brilliant wines of the Rhine – AmaWaterways will bring you into the very heart of Europe's most exciting and legendary vineyards.
Like all AmaWaterways itineraries, you'll also be treated to unlimited, specially selected local wines during lunch and dinner. These change daily and are paired with locally-inspired menus, crafted by our award-winning Executive Chef, Primus Perchtold, the winner of three gold medals at the European Championship of Culinary Art, along with his team of expert chefs.
AmaWaterways Wine Cruises VIDEO