Golf and Cruise in the Mediterranean on Private Luxury Yacht Charters with GolfAhoy.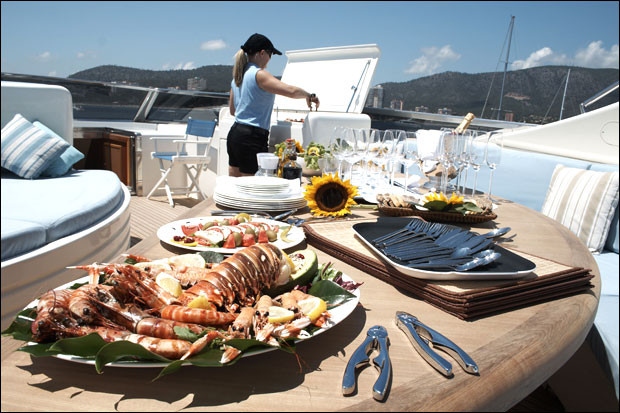 Mediterranean golf cruises on a captain and crewed private charter yacht.
Golf and Cruise in the Mediterranean on Private Luxury Yacht Charters with GolfAhoy.
The motor yacht NOMAD, formerly owned by Australian golf legend Greg Norman, is 228 feet of pure luxury from stem to stern and is staffed by a Captain and crew of thirteen.
Golf & cruise specialist company GolfAhoy Golf Cruises offers a 7 day Western Mediterranean private charter aboard NOMAD, with fabulous golf pre-arranged at Mallorca, Ibiza and Menorca for up to six couples (12 guests), with per couple rates starting from US$87,166 or US$566,996 for just two golfing travel companions – if you'd prefer to 'own' the whole yacht for a week by yourselves.
There is no better conveyance than a privately chartered luxury yacht to help golfers reach hard-to-access courses while removing the daily hassles of packing and unpacking.
You can play golf on different islands and in different countries on a charter yacht golf cruise. Popular destinations offered by GolfAhoy are the Caribbean, Hawaii, Mediterranean, Canaries, Baltic, Bermuda, Mexico, Australia and Southeast Asia.
If the US$87,166 per couple on NOMAD is a little too rich for your wallet, GolfAhoy also offers a fabulous Mediterranean golf cruise aboard the aptly named CHAMPAGNE O' CLOCK, an 86 foot Falcon motor yacht sleeping four couples (8 guests), with 7 day per couple charter rates starting from US$12,250 including four rounds of pre-arranged golf and transportation to courses.
Golf and Cruise in the Mediterranean on Private Luxury Yacht Charters with GolfAhoy.
You can go where you want, when you want, be as energetic, or as lazy as you wish, as you discover the delights of life on board with your own Captain and crew.
Versatility is the key with Nomad or Champagne O'Clock. You decide on your itinerary and what you want to do each day and which golf courses you wish to play.
You have the choice of anchoring off the coast in a remote location far from the crowds to soak up the sun and enjoy the peaceful sound of the sea, or cruise the magical waters of the Mediterranean, perhaps visiting one of the many beautiful ports, going ashore for some shopping, a round of golf, or sightseeing.
When night falls, see how you feel. You can anchor offshore and relax over a meal, or stay in a marina and show off your beautiful motor yacht, then head into town to sample the vibrant local nightlife.
There's nothing like diving into the blue Mediterranean waters from your own boat, having chosen your secluded location to swim and cool down. If lazing on a secluded beach, far from the crowds, is your favorite way to relax, there are many beautiful, unspoiled and little-known coves where your crew can drop you off.
Time to indulge! Golf and Cruise in the Mediterranean on Private Luxury Yacht Charters with GolfAhoy.
Cold champagne, warm sea, blue skies, white sand, succulent seafood, throbbing nightlife and perfect privacy – plus all the golf you can handle.
Dining aboard Nomad or Champagne O'Clock is a true culinary experience, with your own private chef in the fully equipped galley waiting to serve you a superb meal either al fresco on the top deck, overlooking the ocean from the aft deck dining area or in the elegant luxury of the cool, air-conditioned dining room.
Go with the chef's suggestions and enjoy wonderfully fresh local seafood and Mediterranean vegetables, or plan your own menus to suit you and your guests' personal tastes.
Whatever your choice, there's a selection of fine wines from around the world to accompany your meals.
Time for a little exercise! – Golf in Mallorca, Ibiza, and Menorca
The Balearic Islands offer golf that's enjoyable for every level of player. The climate is perfect for golf, with hot summer sun but refreshing sea breezes, little rain, and mild winters.
The golfer is spoilt for choice on the three main Balearic Islands with the opening of several new layouts bringing the total number to 22 golf courses – 2 on Ibiza, 1 on Menorca and 19 on Mallorca. All are set in scenic layouts amongst the beautiful Mediterranean flora and offer year-round ideal playing conditions, top-class facilities, and excellent customer care. Most are carefully designed to provide a stiff challenge to the low-handicapper, but also to provide less exacting fun for the more modest player. Many are right on the coast, so you can moor Nomad or Champagne O'Clock just offshore, hop into the dinghy and hop out onto the first tee!
A FEW MALLORCA COURSE SELECTIONS. For Ibiza and Menorca, selections see the Golf Course Choices in the Balearic Islands chart below.
Golf Course Park Puntiró
Golf Park Puntiró, situated just outside Palma, is Jack Nicklaus' first design in Mallorca and popular with American visitors who want to play all of Nicklaus' European courses. The club also hosts to a Jack Nicklaus Golf Academy, with a fully trained team of pros and all the latest teaching technology.
The course was developed using the natural contours of the countryside and much care was taken to respect the topography of the land and preserve the natural vegetation of the island – pines, olive trees and corks. Some trees – such as the typical algarroba (carob) trees, with their thick trunk similar to an olive, were even uprooted and replanted after the construction of the course, helping to make it look more mature.
Puntiró is situated in a protected natural area. Only recycled water is used and – very important for the enjoyment of your round – it's not set in the middle of a housing development. There are no properties at all here, and you may even hear a cock crow!
The 18-hole par 71 layout isn't long – it's designed to be accessible to all – but it features two giant lakes and requires an accurate game. The greens are fast and the Bermuda grass fairways are wide; just keep out of the trees, water, bunkers and the long rough with its pretty wild white flowers!
Arabella Golf & Spa Resort
The Arabella Golf & Spa Resort group boasts three championship 18-hole courses, nestling between the hills of Son Vida and the island's capital Palma: Son Vida, Son Muntaner, and Son Quint. These top quality courses are close together and it is easy to get from one to the other using the complimentary shuttle service every 15 minutes.
Golf Course Son Vida
The Hawtree-designed Golf Son Vida, dating back to 1964 but completely renovated by Kurt Rossknecht in 2001, is a superb course with pine, palm and almond tree-lined fairways, numerous bunkers but relatively little water, offering breathtaking views of the Sierra Tramuntana and the Bay of Palma.
Golf Course Son Muntaner
Sharing the same magnificent views, the longer and more difficult San Muntaner course is probably the most beautiful course Mallorca has to offer. It is also the most exclusive. It features a great variety of beautifully manicured holes, with large, difficult greens and boasts many ancient, native Mediterranean trees, among which "Sa Capitana", the oldest olive tree on the island, about 21 feet in diameter and said to be over 1,000 years old.
Kurt Rossknecht, who designed San Muntaner in 2000, meant it to be in bloom all year round and this pretty course proudly holds two important environment-friendly certificates. Lakes, numerous different bird species, and Mediterranean flora also add to the natural character of the course, while multiple tees allow golfers of all levels to enjoy their game here.
Golf Course Son Quint
The recently opened Son Quint course is situated in a picturesque setting overlooking the bay of Palma, only a stone's throw from the Son Vida and Son Muntaner golf courses. The undulating course will challenge experienced golfers with its two large lakes, well-placed bunkers and very fast, tricky, Bent Grass greens, but four different tee positions will allow everybody to enjoy their round.
Bermuda Princess grass is used on the fairways here, as it is on many top courses in hot climates, such as Valderrama. This grass spreads thickly across the top of the soil, rather than putting down deep roots, making it resistant and less thirsty.
The speed of the greens is measured every week, and the club has got its own grass nursery, contributing, so they say, to the best fairways and greens on the island. One of the highlights of the course is the 8th tee, the highest point on the course, where you tee off directly towards Palma Cathedral, but spectacular views are on offer at almost every hole.
Golf Course Real Golf Bendinat
Situated between the sea and the mountains of Na Burguesa, 7km from Palma, Real Golf Bendinat is a hilly course where a buggy doesn't come amiss.
Tree-lined fairways, some with sharp dog-legs, elevated tees, water hazards and small, tough greens make this a challenge to even the best of players. But there is comfort in the tranquil spectacle before your eyes: beautiful views over the bay, with olive and almond tree groves in the foreground.
The Santa Ponsa Golf Club: Santa Ponsa I and III
Just south of Calvià and very close to Palma is top class golfing territory: the Santa Ponsa Golf Club and its three courses. The Club has hosted many national and international tournaments, among which the European Tour Balearic Open is a favorite with the rich and famous.
The well established Santa Ponsa I course offers elevated greens, water coming into play on five holes and one of the longest holes in Europe, the 590-meter par 5 10th.
It is nevertheless very enjoyable and less daunting than it sounds, being otherwise not overly long and reasonably forgiving off the tee, thanks to its wide, gently sloping fairways, shortish rough and sparsely planted trees. Definitely somewhere you can get out the driver and open your shoulders!
The course is laid out among many sought-after residences but, although you may have to drive off at the first in front of people sunbathing on their terraces, they are not so obtrusive further along the course.
The nine-hole Santa Ponsa III is a delightful 1600 meter long, par 30 course set among pines and lakes, ideal for beginners and players who love to work on their approach and short game.
Santa Ponsa II, also set in a small pine forest, is slightly shorter than Santa Ponsa I but requires great accuracy. It is a beautiful course, with a striking finishing green in the shape of the Island of Mallorca. Regrettably, it is for the enjoyment of members only.
Golf Course Capdepera
Capdepera Golf Club sits on Mallorca's North East coast and is set in a spectacular valley offering beautiful views over the Mediterranean.
The highlight of the course is undoubtedly the impressive par 3 15th.
After climbing 100 feet up the mountain, you tee off over scrub to a small, well-defended green below, with a bunker front right and a ravine at the back. Whatever the outcome of your shot, take the time to admire the spectacular views across the valley to the sea.
Capdepera is considered a first class golf course, one of the very best in Mallorca and an excellent tournament course from the back tees.
It is tight, with out of bounds, numerous bunkers, and large, tricky greens, some raised, some double-tiered. It also features plenty of water, with six artificial lakes coming into play, but is fun to play and, using different tee positions, is suitable both for beginners and experts alike.
The very comfortable Mallorquin-style clubhouse overlooking the course will welcome you after your round for drinks or a meal of the highest quality of international and local cuisine.
Golf Courses Choices in the Balearic Islands. Golf and Cruise in the Mediterranean on Private Luxury Yacht Charters with GolfAhoy.
Golf and Cruise in the Mediterranean on Private Luxury Yacht Charters with GolfAhoy.
Ibiza
Golf de Ibiza II / Club de Golf Roca Llisa
Ctra. Jesus-Cala Llonga, Km. 8, 07840 Santa Eulalia, Ibiza
Golf de Ibiza I
Ctra. Santa Eulalia del Río, 07080 Ibiza
Mallorca
Canyamel Golf Club
Urb. Canyamel, Avda. D'Esp Cap Vermell, 07589 Capdepera, Mallorca
Capdepera Golf
Apdo. de correos 202, Ctra. Arta-Capdepera, Km 3.5
07570 Capdepera, Mallorca
Club de Golf Alcanada
Urb. Alcanada, Ctra. del Faro, 07410 Puerto de Alcudia, Mallorca
Club de Golf de Poniente
Ctra. Cala Figuera, 07181 Calvià, Mallorca
Club de Golf Son Antem
Ctra. Lluchmajor Pm 602, Km. 3.4, 07620 Llucmajor, Mallorca
Golf Son Gual
Avda. Alejandro Roselló 15-5-E E, 07002 Palma de Mallorca
Golf Son Muntaner
Ctra. Son Vida, 07013 Palma, Mallorca
Golf Son Quint
Urbanización Son Vida, E-07013 Palma de Mallorca
Club de Golf Son Servera
Urb. Costa de los Pinos, 07559 Son Servera, Mallorca
Club de Golf Son Termens
Ctra. de S´Esglaieta, Km. 10, 07193 Bunyola, Mallorca
Club de Golf Son Vida
Urb. Son Vida, 07013 Palma, Mallorca
Club de Golf Vall D'Or
Ctra. Cala d'Or-Portocolom, Km. 7.7, 07660 S'Horta, Mallorca
Golf de Andratx
Carrer Cromlec Nr. 1, 07160 Camp de Mar, Mallorca
Golf Park Puntiró
S`Estanyol de Puntiró, Cami Vell de Sineu km. 9,45
Palma de Mallorca, E-07198 Mallorca
Golf Pollensa
Ctra. de Palma a Pollensa, Km. 49.3, 07460 Pollença, Mallorca
Golf Santa Ponsa I
Urb. Golf Sta Ponça, 07180 Calvià, Mallorca
Golf Santa Ponsa III
Urb. Nova Santa Ponsa Golf, 07180 Calvià, Mallorca
La Reserva Rotana
Camí de Savall, Km 3 Manacor Mallorca
Maioris Golf Course
Pula Golf
Ctra. Son Servera- Capdepera, Km. 3, 07550 Son Servera, Mallorca
Real Golf Bendinat
Calle Campoamor. Urb. Bendinat, 07015 Calvià, Mallorca
Menorca
Golf Son Parc Menorca
Urb. Son Parc, 07740 Es Mercadal, Menorca
Visit the Spanish Tourist Board's superb guide to 375 beaches in the Balearic Islands.    http://www.platgesdebalears.com/caplaibFront/index.en.jsp
Golf and Cruise in the Mediterranean on Private Luxury Yacht Charters with GolfAhoy.