Golf Course Luxury Home Rentals
Find the perfect golf course luxury home rental with up 60% off in the low season.
GolfAhoy represents millions of golf course luxury home rentals through our strategic partnerships with leading global vacation home rental vendors.
24/7 Customer Support Concierge. Day or night, we are here for you from the moment you book with us. Talk to our vendor concierge and support team from anywhere in the world, any hour of the day.
Unwind in a golf course luxury home rental with a fully equipped chefs' kitchen, spacious relaxing and formal areas, a pool and hot tub, and avoid the tips, service charges, and resort fees that are normally associated with hotel rooms.
Ideas.
Similar, from $85 per night or $590 per week. The Villages, FL Vacation Home Rental with Golf Course View. Two bedrooms, two baths, and king beds.  55+ Active Golf Cart Community. Walk to the Country Club House for dining, golf, or tennis.
Similar, from $572 per night or $4,000 per week. $15M Scottsdale Luxury Vacation Rental.
This beautiful luxury vacation rental offers up 8 bedrooms all situated to take full advantage of the mountain top views overlooking Scottsdale. Dozens of golf courses nearby.
Save yourself time and money. Consult with a GolfAhoy Golf Course Luxury Home Rentals agent to find your perfect golf course luxury home rental. We will book your families' air. Book your tee times. Rent you a car. Hire a chef for you.
Phone +1-239-344-9187 for our Corporate Meetings department.
Since 1988 GolfAhoy has serviced the 'luxury client' specialized market segment. Testimonials
To book this GolfAhoy trip or to request additional information, please complete our Reservation Quote Request Form to get started.
We are bonded and licensed, have E&O Insurance and Liability Insurance. FL Seller of Travel Ref. No. ST15578 – CA Seller of Travel No. 2090937-50 – Washington UBID No. 603189022 – Iowa Registered Agency No. 1202. Phone +1-239-344-9187.
Use GolfAhoy to find your Golf Course Luxury Home Rental or surf the 24 home vacation rental websites below to do it yourself!
1 TripAdvisor.com
2 Airbnb.com
3 VRBO.com
4 HomeAway.com
5 Flipkey.com
6 Holiday Lettings
7 HouseTrip.com
8 Owner's Direct
9 Rentals.com Vacations
10 VacationRentals.com
11 Stayz Australia
12 BedandBreakfast.com
13 Holiday Home Rentals
14 9Flats.com
15 Vacation Home Rental
16 Homelidays.com
17 Wimdu.com
18 Roomorama.com
19 AlwaysOnVacation
20 LuxuryRetreats
21 VillaRenters
22 FriendlyRentals
23 CyberRentals.com
24 VacationRentalDirect.com
25 HolidayRental.com
HomeAway.com has 182,000 Golf Villas, Golf Condos & Golf Community Home Rentals/Exchanges in 120 Countries. by Anthony Webber. Editor-at-Large. iGolfTrravelNews.com
The variety of golf courses around the world offers an array of options to golfers whether they prefer teeing off in world-renowned destinations like Scotland and the United States, or emerging and exciting destinations spanning the globe, from South Korea to Brazil, South Africa, or Mainland China to Mexico.
Golfers also have an interesting array of options when it comes to the type of accommodations that will help them relax and prepare for a day on the links.
Increasingly, many golfers are turning to vacation home rentals as their preferred choice of lodging, since these spacious homes often are located within putting range of golf courses, with more room and features than a traditional hotel room.
Much like golf, one could argue vacation rentals originated in Europe, as Europeans have been renting "holiday homes" for decades.  Although, the opportunity to live like a local in a foreign destination, while still having access to all the comforts of home is an appealing offer for any traveler – for golfers, in particular, vacation rentals can offer a welcome respite, considering they spend their days powering through a rigorous 18 holes.
For many golf enthusiasts, nowhere is more steeped in golf's traditions and romance than Great Britain, where historic links courses date back more than 600 years. In fact, one getaway on the top of every golfer's must-play list is the Old Course at St Andrews, Scotland's self-proclaimed "Home of Golf" and the site of the first Open Championship in 1873, and 27 subsequent British Open tournaments.
If you're traveling internationally and living out a dream by playing on the same courses as some of the world's greatest golfers, at the end of the day, opening the door to a minimalist hotel room with nominal privacy and less-than-adequate storage space just doesn't seem to add up.
Now picture the alternative: a spacious, multi-bedroom villa, steps from the green, with a fully equipped kitchen to brew your morning pick-me-up, a garage to store your oversized golf bag and grass-covered shoes, and a backyard to practice the short putts you missed by just a hair the day before.
With sites like HomeAway.com, one of the leading vacation rental websites in the U.S., it becomes much easier to find a home away from home near top golf courses.
HomeAway.com features more than 250,000 properties across 145 countries, and of that inventory, more than 182,000 properties are labeled as golf villas, golf condos, or golf community home rentals.
One of the more compelling vacation homes available on HomeAway.com for a trip to St. Andrews is a luxurious four-bedroom, two-story apartment just a short five-minute walk from the legendary links layout. The vacation home sleeps nine and even offers a replica of the infamous "Road Hole Bunker" in its backyard garden.
In fact, the St Andrews holiday apartment, like many featured on HomeAway.com, has a wealth of cozy and convenient features, including the main reception room, two kitchens, lower ground reception room/fourth bedroom, three bathrooms, utility room, and a cellar. Meanwhile, the yard is equipped with a glass canopy, barbecue, and pizza oven.
The home is just a five-minute walk to the famed birthplace of the game, a dream of any duffer. The ability to wake up in the comforts of a world-class home with family and friends, and then take a leisurely stroll to the first tee, is, well, priceless.
Now that summer's officially here, travel plans are in full tilt and many travel organizations are expecting a busier than usual vacation season.
In fact, a recent survey from American Express Company revealed 59 percent of Americans are planning a trip next summer.
Vacationing with family members remains a top priority, many experts say, but group getaways are on the rise. Plus, with spacious first-class rental accommodations that can often accommodate larger groups, vacation homes are a growing choice among savvy travelers.
What they're finding with these alternative golf vacation choices are accommodations that not only feature the conveniences of home – kitchens, washers, and dryers, for example – but they also offer an incredible level of luxury for a better value than traditional accommodations.
At Mijas Costa, a HomeAway listing owned by Joseph Overdevest in Costa del Sol, Spain, vacation home travelers enjoy a spacious four-bedroom townhome, ample storage space for golf clubs and equipment, and a fully stocked kitchen to use as a dinner party setting or simply for eating a pre-round breakfast at the home or storing snacks and beverages. Overdevest's property borders the Miraflores Golf Course and features an elevated terrace overlooking the lush fairways. According to Overdevest, most of his golf groups come from the United Kingdom and the Netherlands.  He says one of the most popular elements of the home is his large basement outfitted with a large mat and artificial hole so "golfing guests have the opportunity to improve their putting capabilities."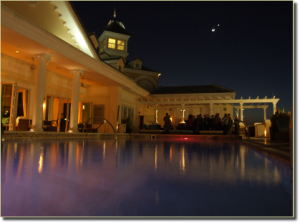 Renting a golf villa vacation home is a smarter way to vacation, particularly with hotel rooms costing more this year than last year, according to a recent AAA/IHS Global Insight holiday travel report. Plus, vacation rentals offer additional savings opportunities by giving travelers the flexibility to prepare meals and dine in the comfort of your home rather than paying for an expensive dinner at the hotel restaurant.
Beyond the monetary value, there are intangible benefits of staying in a home. That sentimental value of spending relaxed, fun-filled quality time with family or friends in a peaceful setting, that allows everyone space to truly rejuvenate – something seasoned vacation home travelers treasure the most about this vacation lifestyle.
That's why golfer's heading to the Emerald Isles for that next great golf getaway might lean toward Verbena Cottage yet another vacation rental option on HomeAway.com. Located close to Ireland's classic County Sligo Golf Club at Rosses Point, home to one of the oldest and best-known links courses in the world, Verbena Cottage is a detached 5-bedroom cottage on a small residential estate in the village of Rosses Point.
The home also has an open-plan living area with a fully-equipped kitchen, dining area, and sitting area with a multi-fuel stove, plus a second sitting room with a piano and a first-floor games room with table tennis. Outside, this cottage offers ample parking and a large yard with furniture, a barbecue area, and a four-hole putting green.
If going abroad on a golf trip is at the top of this year's travel list, consider opting for golf villa rentals and relish in the numerous benefits for golf travelers, and opportunities to enhance the vacation experience off the course.  With more space to accommodate large parties and a less expensive lodging option than hotels, a vacation rental can offer not only comfortable living but an opportunity to save a little green the next time you tee off abroad.