NEW 10 Day VIP Deluxe Platinum Hawaii Islands Golf Cruise Package
"Golfers going to the Hawaii Islands for the first time are rewarded with winning views of different islands and get to play seven of Hawaii's top Championship golf courses during a GolfAhoy NEW 10 Day VIP Deluxe Platinum Hawaii Islands Golf Cruise Package. If it is a special occasion, birthday, or wedding anniversary celebration, this is the Hawaii golf cruise for you." – Leisure & Travel Golf Magazine
This all-inclusive GolfAhoy NEW 10 Day VIP Deluxe Platinum Hawaii Islands Golf Cruise Package is designed for discerning golf travelers accustomed to five-star luxury and superlative service!
A GolfAhoy Hawaii golf cruise is positively the most cost-effective way to play the Championship tournament golf courses in Hawaii.
Dare to compare. Our GolfAhoy bundled package pricing is unbeatable! No small print add-ons. Taxes; Port Charges; Government Departure Fees; Hawaii Tourist Taxes; Ships Crew Gratuities; Chauffer Gratuities; Resort Fees; all included in your GolfAhoy NEW 10 Day VIP Deluxe Platinum Hawaii Islands Golf Cruise Package fare.
GOLF
Hawaii golf courses offered in the 3 day pre or post cruise portion of the package can include Turtle Bay Palmer Course for GolfAhoy Turtle Bay Golf & Spa package guests; or Ko Olina Golf Club  for GolfAhoy Four Seasons Resort Oahu at Ko Olina package guests.
Additional golf courses included in the 7 day circle the Hawaiian Islands cruise portion of the GolfAhoy package include private driver transportation and 18-hole golf rounds at Kapalua Plantation GC or The Bay Course at Kapalua; Wailea Emerald GC; Mauna Lani GC or Mauna Kea GC;  Poipu Bay GC; and Ocean Course at Hōkūala.
Turtle Bay Golf & Spa Resort guests – 3-day pre cruise.
Arrive Hawaii Wednesdays year-round. Meet & Greet your GolfAhoy private limo driver at Honolulu International Airport baggage claim carousel for transfer to the Turtle Bay Golf & Spa Resort on Oahu North Shore.
GolfAhoy packaged accommodations at Turtle Bay include a Club Ocean Bungalow and Private Oceanfront Infinity Pool access. A beautiful infinity-style pool, practically all to yourself, a serene escape from the energy of the resort pool, right on the ocean's edge.
Turtle Bay Resort | Ocean Bungalow King VIDEO
At the Turtle Bay Golf & Spa Resort, the Pacific Ocean is outside your door at these newly renovated Ocean Bungalows. An elegant, naturalistic design immerses you in the splendor of the island's North Shore. Throw open the sliding glass lanai doors at sunrise and sunset, or spot marine life from the daybed on your lanai.  Sundowners and hors d'oeuvres on your patio – watch a Pacific sunset and ask your dedicated Bungalow Host to set up a private happy hour. Cheers!
Club Ocean Bungalows include Ocean Club amenities – breakfast, lunch, evening hors d'oeuvres and refreshing libations, plus snacks, coffee, and teas throughout the day in the Ocean Club Lounge. Additional amenities include unlimited use of beach cruisers and pickleball with Ocean Club equipment, lei-making, premium VIP seating at Paniolo Luau (on Wednesday night), and preferred access to other Turtle Bay events.
Turtle Bay Resort | WEDNESDAY only | Paniolo, A Hawaiian Cowboy Luau VIDEO
GolfAhoy Turtle Bay Dining Recommendation.
Alaia Restaurant. Dinner 5:00 pm – 9:30 pm. Known for its modern take on Hawaiian comfort fare, Alaia embraces the community through its support of nearby Mauka Farms, telling its story through every plate, bite, and sip. Your GolfAhoy advisor or your Beach Bungalow Concierge can book your table reservation.
Breakfast: 6:30 AM – 11:00 AM
Dinner: 5:00 PM – 9:30 PM
Dinner Reservations Recommended
Turtle Bay Resort | Alaia Restaurant VIDEO
GolfAhoy Turtle Bay Dining Recommendation.
Roy's Beach House. Dinner Service: 5:00 -10:00. Reservations are required. Roy Yamaguchi's restaurant is located right on the breathtaking Kuilima Cove. The concept and design for the 140-seat open-air restaurant reflect Roy's love for white sandy beaches and the ocean. Your GolfAhoy advisor or your Beach Bungalow Concierge can book your table reservation.
Beach House by Roy Yamaguchi
Lunch: 11:30 AM – 2:30 PM
Dinner: 4:30 PM – 9:00 PM
Dinner Reservations Recommended
Choose Turtle Bay or the Four Seasons Resort Oahu at Ko Olina for your 3-day pre cruise stay.
The Four Seasons Resort Oahu at Ko Olina is a GolfAhoy Golf Cruises Preferred Partner affording our GolfAhoy guests' special privileges and value-added amenity bonuses.
Just 35 minutes from downtown Honolulu on Oahu's sunny western shore, this beachfront Resort is edged to the north by the pristine nature preserve of Lanikuhonua ("where heaven meets the earth") and to the south by four lovely beach coves, known as the Ko Olina Lagoons. It's just a short walk to the award-winning Ko Olina Golf Club.
STAY LONGER – FOURTH NIGHT FREE. Complimentary fourth night with every three consecutive paid nights. Book this offer to receive a complimentary fourth night on Hawaii's most dynamic island at The Four Seasons Resort Oahu at Ko Olina. If you're staying in selected suites, you'll also receive a daily $100 Resort credit. Offer is subject to availability at time of booking. Blackout dates and other restrictions may apply.
GolfAhoy package comes with an OCEANFRONT ROOM at Four Seasons included. With unobstructed, panoramic ocean views, these spacious rooms show off the best of Oahu both inside and out, with colorful Hawaiian décor complemented by the sand and turquoise waters seen just outside.
GolfAhoy Accommodation Upgrade Recommendation.
DELUXE ROOM WITH OUTDOOR SPA TUB. Located on the ground floor, these oceanfront rooms feature their own private outdoor oasis, complete with a spa tub and lush garden area, as well as easy beach access. Average upgrade price per night from $2,027
GolfAhoy Accommodation Upgrade Recommendation.
PENTHOUSE SUITE. Forbes called it "the most dramatic of all hotel suites on any of the Hawaiian Islands." And we'd have to agree. You'll find this pied-à-terre up on the 17th floor, where an expansive private terrace lets you take in incredible ocean views all day long, and spacious interiors offer plenty of room. Treat your favorite person to the pinnacle of Hawaiian luxury. Soar above the ocean with an exclusive 17th-floor Penthouse Suite – the perfect place to make memories that last a lifetime. Average upgrade price per night from $18,200
Do you happen to enjoy delicious fresh seafood? GolfAhoy recommends the World's First Fish Sommeliers at Four Seasons Resort Oahu.
Mina's Fish House, Four Seasons Resort Oahu at Ko Olina's premiere line-to-table beachside dining experience, introduces Ryan Houser and Jared Chang as the World's First Fish Sommeliers. Together, the local fish sommeliers bring an insatiable passion for spearfishing and a local's knowledge of the bounty of Oahu's waters while offering guests a table-side education on Hawaiian fish and the signature whole fish preparations. The utterly unique role of fish sommelier was conceived by James Beard award-winning chef Michael Mina, to connect guests dining at Mina's Fish House with the absolute best catch of the day and why it is so.
Get into the swing of island life with an 18-hole foray into the Hawaiian landscape at the stunning Ko Olina Golf Course.
Course Layout. Ko Olina Golf Club is recognized as one of Hawaii's best golf courses and offers a challenging 18-hole championship course with exceptional water features, multi-tiered greens, and no parallel fairways. Preview the challenge here Hole 1 | Hole 2 | Hole 3 | Hole 4 | Hole 5 | Hole 6 | Hole 7 | Hole 8 | Hole 9 | Hole 10 | Hole 11 | Hole 12 | Hole 13 | Hole 14 | Hole 15 | Hole 16 | Hole 17 | Hole 18
Wednesday to Saturday pre-cruise golf & spa resort stay. Saturday board the NCL Pride of America in Honolulu. Private driver limo transfer to the ship included in the package.
NCL Pride of America Hawaii 7-day Golf Cruise Itinerary Overview.
GolfAhoy GOLF shore excursions are included in our NEW 10 Day VIP Deluxe Platinum Hawaii Islands Golf Cruise Package fares.
Ports O' Call. Honolulu, Oahu | Kahului, Maui | Hilo, Hawaii | Kona, Hawaii | Nāwiliwili, Kaua`i | Honolulu, Oahu
88 Pride of America Hawaii adventure and sightseeing tour shore excursion choices in each port for non-golfing-travel-companions.
GOLF & CRUISE ITINERARY
Saturday. Honolulu, Oahu. Board by 5 PM. Set sail at 7 PM.
Sunday. Kahului, Maui. Arrive 8 AM. Overnight port. GolfAhoy GOLF Kapalua Plantation GC or The Bay Course at Kapalua
Monday. Kahului, Maui. Set sail at 6 PM. GolfAhoy GOLF Wailea Emerald GC
Tuesday. Hilo, Big Island Hawaii. Arrive at 8 AM. Set sail at 6 PM. Day at leisure due to active volcano eruptions.
Wednesday. Kona, Big Island Hawaii. Arrive at 7 AM. Set sail at 5:30 PM. GolfAhoy GOLF Mauna Lani GC or Mauna Kea GC
Thursday. Nawiliwili, Kauai. Arrive at 8 AM. Overnight port. GolfAhoy GOLF Poipu Bay GC
Friday. Nawiliwili, Kauai. Set sail at 2 PM. GolfAhoy GOLF Ocean Course at Hōkūala Afternoon scenic cruise along the Napali coast.
Saturday. Honolulu, Oahu. Arrive at 7 AM. Disembark at 9 AM.
Accommodations onboard Pride of America NEW 10 Day VIP Deluxe Platinum Hawaii Islands Golf Cruise Package.
Penthouse Suite GolfAhoy Package price includes a standard Pride of America Penthouse Suite*.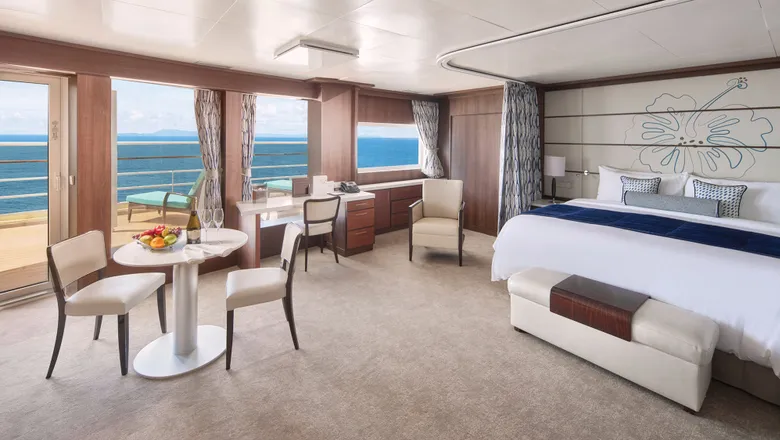 Penthouse Suite VIP Amenities.
Baggage handlers will deliver your luggage and golf clubs to your superbly appointed Penthouse Suite. Step right up to the VIP Suite Guest reception check-in harborside for a VIP priority check-in.
Celebrate your arrival on board with a complimentary bottle of champagne. Plus, you'll be pampered with a deluxe array of additional complimentary amenities.
Skip the lines and be personally escorted on and off the ship at the pier and at ports of call.
Butler golf bag porterage Suite to gangplank by request. *Cash gratuity encouraged, not included in the package.
Distinctive VIP keycard.
24-hour trained and Certified Suite Butler, from unpacking your suitcase to pouring your champagne.
Champagne, and fruit basket on embarkation day.
Nespresso Coffeemaker and Tea Forte tea bags.
24-hour Room Service.
Invitations to an exclusive breakfast and lunch.
Specialty dining delivered to your suite from any restaurant *cover charges apply.
Cocktail party with ship's officers.
Treats are delivered right to your door each night.
Bliss Collection by Norwegian pillow-top mattress.
Fine linens, feather duvet, and pillow menu.
Plush bathrobes, slippers, and oversized bath towels.
Luxury bathroom products.
*Upgrade to a Penthouse Suite with a Large Balcony
Dining on Pride of America
Onboard the Pride of America, you will enjoy spirited entertainment options and regional fare. And perhaps best of all, this fabulous cruise line offers all the freedom and choice of Freestyle Cruising. Dine when, where, and with whom you want in the two main dining rooms or choose from several theme specialty restaurants.
Dress formally for dinner or dress in country club casual. Evenings come alive with dozens of after-dinner entertainment options and Broadway Shows.
Ten Different Restaurants, the choice is yours. With Freestyle Cruising, you travel a world of dining options all in one week. From the Steakhouse to elegant French Bistros and Italian Trattoria to Sushi and Tapas Bars, and more, there's a different dining option for almost every night of your cruise.
Norwegian Cruise Line Freestyle Dining VIDEO 
Asian Fusion Complimentary Dining VIDEO Get your chopsticks ready for the exotic flavors of the Far East with Chinese and Pan-Asian cuisine on Pride of America, including a variety of sushi rolls and delicious Noodles Bar.
Cagney's Steakhouse Specialty Dining VIDEO Steak is the standard at Cagney's, an American-style steakhouse on Pride of America. Sip your favorite cocktail as you select from choice cuts of perfectly prepared Certified Angus Beef®. Tip – don't forget to order the famous truffle fries.
Moderno Churrascaria Specialty Dining VIDEO Looking for a unique experience? Moderno Churrascaria, Pride of America's authentic Brazilian steakhouse, is a must. Start with an impressive salad bar but save room for skewers of slow-roasted meats carved tableside by Pasadores.
Italian Fare Specialty Dining VIDEO Enjoy the finest ingredients at this vibrant Italian restaurant on Pride of America. Dine on classics like pasta carbonara or lobster fettuccine. Then indulge in the affogato.
Le Bistro Specialty Dining VIDEO Surround yourself with classic décor and plates of rich French cuisine, such as bouillabaisse and Cote de boeuf, at Le Bistro.
Teppanyaki Specialty Dining VIDEO The sizzles and surprises never cease at Teppanyaki, an authentic Japanese Hibachi restaurant. Sit at a lively shared table as a skillful chef perfectly grills steak, seafood, and chicken on a large steel grill.
Disembarkation Day Saturday. (Optional Honolulu hotel night available.)
Optional post-cruise Pearl Harbor & USS Missouri, USS Arizona Memorial Tour. A profoundly moving and emotional experience where you will learn about the 1,177 seamen who lost their lives during the Japanese attack on December 7, 1941. This nostalgic journey takes you to the two places that marked the beginning and the end of the war for the United States – Pearl Harbor and the USS Missouri. At the site of Pearl Harbor, visit the Arizona Memorial where the remains of the USS Arizona lie silent beneath the waves. The 1941 attack on Pearl Harbor will unfold in detailed narrations and photos. From here you'll travel across the Ford Island Bridge to the historic USS Missouri battleship, nicknamed the 'Mighty Mo.' Explore the passages, rooms, and corridors on a self-guided tour. Note: This tour is only available for Pride of America guests with flights after 6:00 PM.
Would you like to read GolfAhoy Testimonials? GolfAhoy pioneered the 'golf cruise' concept in 1988. We've been the travel industry's leader in the golf cruises market niche for over 30 years. Today, we operate our GolfAhoy golf cruises aboard 193 different cruise liners, European riverboats, and luxury charter yachts with exciting golf itineraries spanning the globe.
NEW 10 Day VIP Deluxe Platinum Hawaii Islands Golf Cruise Package from $9,995 per person double occupancy before prevailing NCL cruise discounts, bonus amenities, and optional upgrades.