New Zealand & Australia Summer Golf Cruise. If it's a special occasion, birthday, or wedding anniversary celebration this is the New Zealand & Australia golf cruise for you.
Azamara Golf Cruises\PerryGolf 
17 Nights | 6-7 Golf Rounds | Auckland – Sydney | February | Azamara
Azamara Cruises are inclusive of a full selection of beer, spirits, soft drinks, bottled water, specialty coffees plus wine with lunch and dinner along with gratuities for housekeeping, dining and bar staff.
This February New Zealand and Australia golf cruise presents the perfect opportunity to leave the northern hemisphere's winter behind for the sunshine and long daylight hours of a southern hemisphere summer!
Golf Schedule
Kauri Cliffs | New Zealand Australia Summer Golf Cruise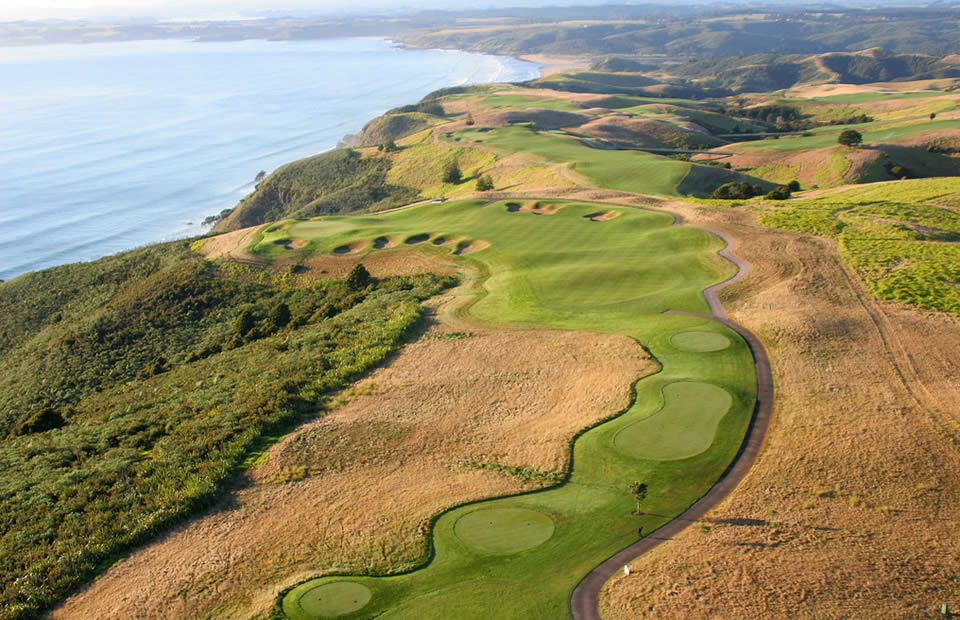 Kauri Cliffs was designed and built by David Harman of Golf Course Consultants, Orlando, Florida. It is a par 72 championship golf course that measures 7,119 yards / 6,510 meters with a selection of five sets of tees to challenge every skill level. Tee selection is an important decision here, with gorges and fairways with some of the healthiest and thickest grass in the world making it easy to mount up a tally of lost balls. Fifteen holes view the Pacific Ocean, six of which are played alongside cliffs that plunge to the sea. The beautiful inland holes wind through marsh, forest, and farmland. Kauri Cliffs is currently ranked by Golf Digest as #39 among the top 100 in the world.
The Kinloch Club | 2021 New Zealand Australia Summer Golf Cruise
The Kinloch Club is a recent addition to New Zealand's golf selection, opening in 2007 as Jack Nicklaus's signature course. Although the course is situated far inland it pays homage to British Links. Situated on volcanic terrain it seamlessly blends the raw links-style into age-old kiwi sheep farming territory, surrounded by craggy hills and scenic views of the imposing Lake Taupo. It is now considered by many golf experts to be the #1 course in New Zealand and is sure to give even the most experienced golfer a rugged test.
Cape Kidnappers | New Zealand Australia Summer Golf Cruise
Cape Kidnappers has consistently rated the #1 course in New Zealand and has received critical acclaim from around the golfing world. This Tom Doak design occupies a huge expanse of property, with the drive from the public road to the clubhouse taking you through a sheep and cattle station. The golf course is set on pristine land, wedged between the station and the huge cliffs of the Cape. The much-photographed course has a number of holes separated by deep ravines that run down to the South Pacific Ocean. The course also offers commanding views over the wine region of Hawke's Bay and the nearby small port town of Napier.
Christchurch Golf Club | New Zealand Australia Summer Golf Cruise
Christchurch Golf Club has a proud history that dates back to 1873. The club is the second oldest in New Zealand and the fifth oldest outside the United Kingdom. Its Shirley Links course has held numerous New Zealand Open and Amateur Championships. In 1990 it hosted the World Amateur Team Championship. The course is renowned worldwide as a challenging championship course of the highest quality which offers a fair test of golf for both club and professional golfer. The Club Patron is former Club Champion Sir Bob Charles, New Zealand's most successful professional golfer, best known for winning the 1963 British Open at Royal Lytham & St Annes, England.
Jack's Point Golf Course | New Zealand Australia Summer Golf Cruise
Jack's Point Golf Course, is situated between the majestic Lake Wakatipu and 2,300 vertical meters of the Remarkables Mountain Range. Jack's Point was named after the 19th century Māori local named Jack. He was awarded a medal from the Royal Humane Society of Britain after saving the life of a man when they had capsized in Lake Wakatipu in winter 1862, an extraordinary rescue. It traverses through the wetland to the lake edge encountering steep bluffs, indigenous vegetation, and wildlife. The course is not only one of the most spectacular in the world but with an 18 hole par 72 Championship course offers a challenging and lasting experience to any caliber of golfer.
Tasmania Golf Course | New Zealand Australia Summer Golf Cruise
Tasmania Golf Club is surrounded by water on three sides and perched atop the picturesque Barilla Bluff. This scenic and enjoyable layout is routinely ranked among the top three in Tasmania. A frequent host of the Australian Amateur and Tasmanian Open, the club moved to its current location in 1971 with this course designed by noted architect Al Howard. The course measures 6,820 yards with a par of 72 for the men and 6,056 yards with a par of 74 for the women. Accurate driving is imperative throughout and the 165-yard par-3 18th delivers a delightful finale.
Moonah Links Legends Course | New Zealand Australia Summer Golf Cruise
Moonah Links Legends Course links-style layout was built to honor past champions who have contributed to Australia's rich golf history. Every hole is named after a winner of the Australian Open beginning with the 2000 titlist Aaron Baddeley. Five sets of tees allow playing from 5,586 to 6,946. The par threes will get your attention, none measure less than 170 yards. The 16th – "Gene Sarazen" – is said to have the largest green in the Southern Hemisphere!
Itinerary | New Zealand Australia Summer Golf Cruise
Date
Port
Arrive / Depart
Golf
Sightseeing
Feb 6
Auckland
Embark / 5:00PM
Sky Tower
Feb 7
Bay of Islands
6:30 AM / 6:30 PM
Kauri Cliffs
Maori culture
Feb 8
Tauranga
9:30 AM /6:00 PM
Kinloch Club*
Mount Maunhanui
Feb 9
Napier
1:30PM / 9:00 PM
Cape Kidnappers*
Feb 10
Wellington
1:00PM / 11:00PM
 
Mount Victoria
Feb 11
Nelson
7:00AM / 8:00PM
 
Abel Tasman National Park
Feb 12
Picton
7:00AM / 5:00PM
 
Ohau Point
Feb 13
Lyttelton
7:00AM / 4:30PM
Christchurch
Pohatu Penguin Tour
Feb 14
Dunedin
6:30AM / 5:00PM
Jacks Point**
Otago Peninsula
Feb 15
Milford Sound
5:00PM / 8:00PM
 
Feb 16
At Sea
 
Feb 17
At Sea
 
Feb 18
Hobart
9:00AM / 11:00PM
Tasmania GC
Feb 19
At Sea
 
Feb 20
Melbourne
8:00AM / 10:00PM
Moonah Links
St. Kilda Beach
Feb 21
At Sea
 
Feb 22
Sydney
1:00PM / IN PORT
 
Sydney Harbour
Feb 23
Sydney
Disembark / 9:00AM
 
* Played on an included overland plan with one night in Taupo. **Optional round via overland plan to Queenstown
POST-CRUISE – Sydney including golf at The Lakes & New South Wales: 3 Nights | 2 Rounds |
Date
Golf
Sightseeing
Social Events
Lodging
Feb 23
Debark Azamara Pursuit
Sydney
Langham Sydney
Feb 24
New South Wales
Sydney
Feb 25
The Lakes
Sydney
Farewell Dinner
Feb 26
 
Depart Sydney
Azamara Pursuit VIDEO
Cruise Fares
Club Veranda Stateroom from US$6,499 pp\dbl
Club Continent Suite from US$8,299 pp\dbl
Owners Suite from US$13,099 pp\dbl
Golf Shore Excursion Package from US$3,595 per golfer
Queenstown & Jack's Point: 2 nights / 3 days / 1 round from US$1,645 per golfer
Post-Cruise Option in Sydney with Golf at The Lakes and New South Wales: 3 nights / 2 rounds from US$2,495 per golfer
Deposits: Golf 25% of Golf Package Price; Staterooms US$550 / Suites US$1,100
Lock in Early for the Best Suites & Staterooms at the Best Price for 2021 New Zealand Australia Summer Golf Cruise
The Cancellation fee is US$125 per person until 12 months prior to departure
GolfAhoy suggests that Trip Cancellation Insurance which you may purchase through GolfAhoy to protect your New Zealand and Australia Golf Cruise vacation investment in the event of unexpected last-minute trip cancellation is worthy of consideration!
Cruise Fares subject to change. | Cruise Ports subject to change. | Golf Courses subject to change | Golf Shore Excursion Package price subject to change | A deposited confirmed booking through GolfAhoy locks in prevailing pricing on the date of booking
Suites and Staterooms | 2021 New Zealand Australia Summer Golf Cruise
Welcome to your vacation home with ocean views, sea breezes, and all the style and amenities of a boutique hotel. Relax with plush cotton robes and slippers, French bath products, fresh flowers, and 24-hour room service. Our goal is to make you comfortable so you can spend more time on important things. Like exploring the world.
Suites on an Azamara voyage. Our suite guests receive a variety of exclusive benefits in addition to comfortable, spacious accommodations. We take care of all the details, so you can focus on experiencing the world.
Staying in a suite is like staying in your own vacation home complete with ocean views, sea breezes, and butler service. Relax with plush cotton robes and slippers, French bath products, fresh flowers, and fine linens. Open the sliding glass doors to your private veranda, perfect for reading, al fresco dining, or stargazing. Enjoy a drink from complimentary bottles of specialty spirits, mixers included. And should you need anything, your English-trained butler is never more than a call away, ready to assist with restaurant and spa reservations, private parties, dinners for two, and much more.
Suites | Club World Owner's (6) | Club Ocean (4) | Club Continent (34) | Club Spa Suite (2)
Suite Amenities | English-style Butler Service | Priority check-in and departure | En-suite dining | En-suite spa service (optional) | En-suite afternoon tea service | Complimentary wine, vodka, and Whisky | Seating in specialty restaurants
Staterooms | Club Veranda (201) | Club Ocean View (72)  | Club Interior (26)
Stateroom Amenities | Egyptian cotton bed linen and duvet | Terrycloth bathrobes and slippers | 24-hour room service | Turndown treats | Flat-panel television | Refrigerator with mini-bar | Desk and Telephone | Thermostat-controlled air conditioning | In-room safe | Hairdryer | Complimentary welcome fruit basket and fresh-cut flowers | Shoe shining service
Dining
Discoveries (Main restaurant) | Windows Café casual buffet (Daytime) | Windows Café and Sunset Bar casual alfresco dining and cocktails | Prime C Steakhouse and Wine Cellar | Aqualina – Mediterranean Flavors | Pool Grill
Health, Beauty, and Vitality
Fitness Center and Spa | Thalassotherapy Pool | Acupuncture at Sea | Salon Main Pool with Jacuzzi
Entertainment and Lounges
Cabaret Lounge | Club Luxe Casino | Looking Glass Lounge and Late Night Spot | Discoveries Lounge | The Drawing Room / Library | Mosaic Café Coffee Bar | eConnections Computer Lounge
2021 New Zealand Australia Summer Golf Cruise.