[vc_row 0=""][vc_column][vc_column_text 0=""]Vietnam and Cambodia Mekong River Golf Cruise.
4th December – 21st December 2020 Group Departure.
Charms of the Mekong Golf Tour departures offered in November & December and February & March each year.
7­ NIGHT CRUISE WITH 3 NIGHTS HO CHI MINH CITY PRE-­CRUISE AND 2 NIGHTS SIEM REAP, 2 NIGHTS HANOI, 1 NIGHT HA LONG BAY, 1 NIGHT HANOI POST-­CRUISE.
Two lively cities, Ho Chi Minh City and Hanoi, provide the perfect start and end to your incredible journey. Cruise along the Mekong, visiting rural villages, historic pagodas, local markets and a Buddhist monastery where you'll witness a special blessing by monks. Indulge your inner adventurer in Siem Reap, exploring the grand temples of Angkor Archeological Park. And luxuriate in an AmaWaterways' Exclusive—an overnight sojourn on board an elegantly appointed ship in Ha Long Bay.

AmaDara Overview This distinctive ship is in a class of her own! AmaWaterways' sole cruise ship on the Mekong River, the AmaDara features French Colonial décor and richly carved wood furniture inspired by the history of the region, as well as local artifacts made by native craftsmen.
Air-conditioned interior corridors lead to spacious staterooms and suites, most featuring twin balconies that invite the ever-changing scenery of Southeast Asia inside.
On board, the AmaDara caters to your every whim, with massage rooms, fitness room, gift shop, hair salon, and Sun Deck pool.
Her stunning Saigon Lounge provides respite by day and unites guests over intriguing local entertainment by night.
Savor authentic regional delicacies and Western cuisine in the Main Restaurant or dine at The Chef's Table specialty restaurant; and throughout your cruise, be treated to unlimited complimentary wine with lunch and dinner, as well as house brand spirits, local beer and soft drinks throughout your cruise. Crew 52; Staterooms 62; Passengers 124.
ITINERARY
Day 1, HO CHI MINH CITY. Arrive in Ho Chi Minh City. Private group transfer to the Hotel Sofitel. Welcome dinner with our Golf Concierge. (D)
Day 2, HO CHI MINH CITY. Ho Chi Minh City, still affectionately referred to by locals as Saigon, is Vietnam's former capital. Golf today will take place at the Vietnam Golf and Country Club, the East Course, one of the few Lee Trevino designed courses. It's a fun track, and the caddies are very polite and know their lines! For those not golfing you have the option of relaxing in the Hotel and taking in the sights at your own pace or have a guide to take you on a walking tour. (B, L)
Day 3, HO CHI MINH CITY. Transfer to The Tan Son Nhat Golf Course is a beautifully maintained golf course with 4 loops of 9 holes to give golfers a myriad of hole combinations. The course borders on the runway of the International Airport. In the afternoon, visit Cu Chi, an immense underground network built during the Vietnam War. (B, L)
Day 4, HO CHI MINH CITY ­ AmaDara EMBARKATION. In the morning, visit Ben Thanh Market—one of the oldest and most iconic structures in Ho Chi Minh City. Board the AmaDara at My Tho Port. Meet your fellow travelers at a Welcome Dinner as the ship cruises to Cai Be. (B,L,D)
Day 5, SA DEC ­ CAI BE. Take a local boat to Cai Be. You will have an opportunity to visit candy and rice paper making workshops, as well as the historic Kiet Old House. Later in the day, journey to Sa Dec, a sprawling town on the Mekong Delta, where French writer Marguerite Duras spent part of her youth. You will visit the colorful market, Cao Dai Temple and the house of Mr. Huynh Thuy Le, Duras' Chinese paramour, which her prize­-winning novel, "The Lover," is said to be based on. (B,L,D)
Day 6, TAN CHAU ­ BORDER CROSSING. Enjoy a visit to Tan Chau, a small Mekong River town unspoiled by tourism. Be treated to an authentic experience on a traditional "xe­loi" ride around the town, with stops at silk­making and rattan mat workshops, followed by a boat ride through the narrow channels of the Mekong River to "Evergreen Island." Alternatively, take a boat ride to Evergreen Island and return to Tan Chau, where you will visit a rattan mat workshop. Later in the day, cruise from Vietnam to the Cambodian border en route to Phnom Penh. (B,L,D)
Day 7, PHNOM PENH. This morning's excursion takes you to Cambodia's infamous Killing Fields and the Khmer Rouge's grim Tuol Sleng S21 detention center (Genocide Museum). Alternatively, you may wish to shop for unique treasures at the bustling yellow­-colored Central Market. After lunch on board, you will explore the highlights of the city, followed by a visit to the Royal Palace, the spectacular Silver Pagoda and the National Museum, which has an outstanding collection of Khmer crafts. After returning to the ship, enjoy Khmer folk dancing performed by local children in the Saigon Lounge. (B,L,D)
Day 8, OUDONG ­ KAMPONG­TRALACH ­ PHNOM PENH. Visit Oudong, Cambodia's former royal capital from the early 17th century until 1866. Today, Oudong is a place of pilgrimage for Cambodians. While here, be treated to a memorable Buddhist Blessing Ceremony at a monastery. You may also take a walking tour of Oudong. In Kampong Tralach, you will have a truly authentic excursion – an oxcart ride through a local village. Later in the day, experience Phnom Penh via a tuk-tuk ride and be enchanted by the city's French Colonial architecture and tree­lined boulevards set amidst monumental Angkorian architecture. (B,L,D)
Day 9, OKNHATEY VILLAGE. In the morning, set sail for Oknhatey Village. Oknhatey is the "Silk Island," located on the lush banks of the Mekong River and known for its rich tradition of silk weaving. While here, you will visit a local elementary school and observe the traditional silk weaving, an art that has been preserved for centuries. Your cruise continues to Angkor Ban. (B,L,D)
Day 10, ANGKOR BAN ­ KAMPONG CHAM. Go on a walking tour of Angkor Ban, one of the few villages in Cambodia that were not destroyed under the Khmer Rouge regime in the 1970s. Here people still live in their traditional wooden abodes and keep their old cultural traditions alive. Hundreds of wooden houses stand intact on stilts,  shaded with banana trees, among the hustle and bustle of the daily agricultural on­going of the local villagers. After visiting here, the ship sets sail for Kampong Cham, where you will go on an afternoon excursion via motorcoach to the Twin Mountains, known as Phnom Pros and Phnom Srei (male and female mountains). In the annals of Khmer legend, the twin mountains were formed as the result of a competition between the men and women of an ancient Cambodian kingdom to resolve which gender would be responsible for wedding proposals. Cap the day off with a festive Farewell Dinner on board. (B,L,D)
Day 11, KAMPONG CHAM ­ SIEM REAP ­ DISEMBARKATION. Disembark in Kampong Cham and transfer by motorcoach to Siem Reap, a gateway  to the Angkor Archaeological Park, a UNESCO World Heritage Site and the former capital of the Khmer empire. You'll visit nearby Ta Prohm, known as the "Kingdom of the Trees," for the way in which the temple stones have become intertwined with thick forest vegetation. (B, D)
Day 12, SIEM REAP. Welcome to Siem Reap, and your golf excursion to Sir Nick Faldo designed Angkor Golf Club. A beautiful course that is nonetheless a challenge. Every hole will tell a different story, and your local caddies will guide you round this course professionally and with a few laughs. In the afternoon relax at the hotel before being treated to a special "Apsara Dancing Show" at your hotel, featuring local Cambodian/Khmer folk dancers. (B,L,D)
Day 13, SIEM REAP – HANOI Begin your early morning exploration of the temple complex at Angkor Wat, the most iconic of all Angkorian temples, built by King Suryavarman II in the early 12th century to honor the Hindu god, Vishnu. Carrying on to Angkor Thom Thom meaning "the great city." This is home to Bayon Temple, best known for its gigantic smiling stone faces, as well as the Terrace of the Elephants and the Terrace of the Leper King. Later in the day, take a short flight to Hanoi, the capital city of Vietnam. (B, L)
Day 14, HANOI. Today we head off to the Sky Lake Golf Course, the natural beauty of the landscape has been used to create continuity and consistency throughout the design. A subtle use of different elevations and aspects create a true and honest test of golf. Managed by IMG, the course is one of the best in Vietnam. From ancient temples to French Colonial architecture and modern­day skyscrapers, along with beautiful parks and lakes, Hanoi is an eclectic and lively city. A private afternoon sightseeing tour will showcase some of Hanoi's most famous historic and cultural sites, including Ba Dinh Square and The Temple of Literature. (B, L)
Day 15, HANOI ­ HAI PHONG. Take a scenic drive from Hanoi to Hai Phong and play one of Vietnam's newest prestige courses the Vinperl Hai Phong Golf Club. Designed by IMG Worldwide, the 36­hole championship golf course features two distinct courses "Lakeside" and "Marshland", challenging players of all levels. Lakeside, a scenic resort­style course with a plethora of interconnected lakes, coming into play on 12 holes with generous fairways and large undulating greens. Marshland, a shot­makers golf course specifically designed to be in harmony with the carefully preserved open wetlands, has been established with a different character to complement its companion.In the evening check into your Hotel. (VinPerl Hai Phong or similar B, L)
Day 16, HA LONG BAY/ LAN HA BAY One of Vietnam's most renowned locations, Ha Long Bay, is a UNESCO World Heritage Site. Rather than the overpopulated tourist side of Ha Long Bay, we will visit the majestic island formations of Ha Long Bay from the more pristine side, Lan Ha Bay. Board an elegantly appointed ship designed with all the modern conveniences to ensure smooth sailing for an incredible once ­in­ a ­lifetime experience. The backdrop of the bay's magnificent scenery and dramatic limestone cliffs and rock formations provide you with the perfect setting for a memorable sojourn. (B, L, D)
Day 17, HA LONG BAY ­ HANOI. Spend the morning sailing across the emerald waters of Ha Long Bay with more than 2,000 small islands rising from the water like a dragon's back. Later in the morning, disembark the ship and transfer back to Hanoi where you can enjoy the remainder of the day at leisure. (B)
Day 18, DEPART HANOI. Bid farewell to Vietnam and prepare for your homeward flight (B)
HOTELS
Hotels can only be confirmed once a booking is made and is subject to availability at the time of booking. Every effort will be made to place the gusts into the Sofitel Hotels, but we reserve the right to change the hotel to a similar 5 Star hotel should the required rooms not be available for any other reason that will allow the journey to be completed in the quality that it is intended.
Ho Chi Minh City         Sofitel Saigon Plaza, Mai House Saigon, or similar 5 Star Property
Hanoi                        Sofitel Grand Opera or Similar 5 Star Property
Siem Reap    Sofitel Pokeethra or similar
Lan Ha Bay Cruise Ship Indochina luxury cruise ship
Food and Beverages
B          Breakfast
L          Lunch
D         Dinner
Meals also include beverages including wines and beer as well as local spirits unless otherwise indicated
Gratuities
Gratuities are not included. For the golf per Caddy VND 300,000 – 400,000 is recommended (13 USD – 17 USD) per round. Please also remember to rate the caddie's services by dropping their token into the appropriate box. Their tips are paid directly to them.
Your Golf bags will be taken care of during the trip by our Golf Concierge. During your cruise it is advisable to take the clubs on board the ship and store them in your stateroom. Your international flight from Siem Reap to Hanoi has golf clubs included in the fare, in addition to your luggage.
Vietnam's capital city is a sprawling, lively city with an energetic cultural scene, noted for its graceful colonial architecture and French and Old Quarters. Hanoi is the second-most populous city in Vietnam, right in the heart of the Red River Delta. Thanks to its mix of broad tree-lined boulevards, narrow alleyways, lakes, and parks, temples, and pagodas, the city is a stunning blend of Indo-Chinese and French colonial influences.
Excursion visiting Hoa Lo Prison – what American POW's not-so-affectionately dubbed 'The Hanoi Hilton' – will be a poignant experience. While the museum focuses mostly on the sufferings of the Vietnamese when they were imprisoned here by the French – visitors will undoubtedly be moved to know this is where John McCain and his fellow POW's were held prisoner by the North Vietnamese.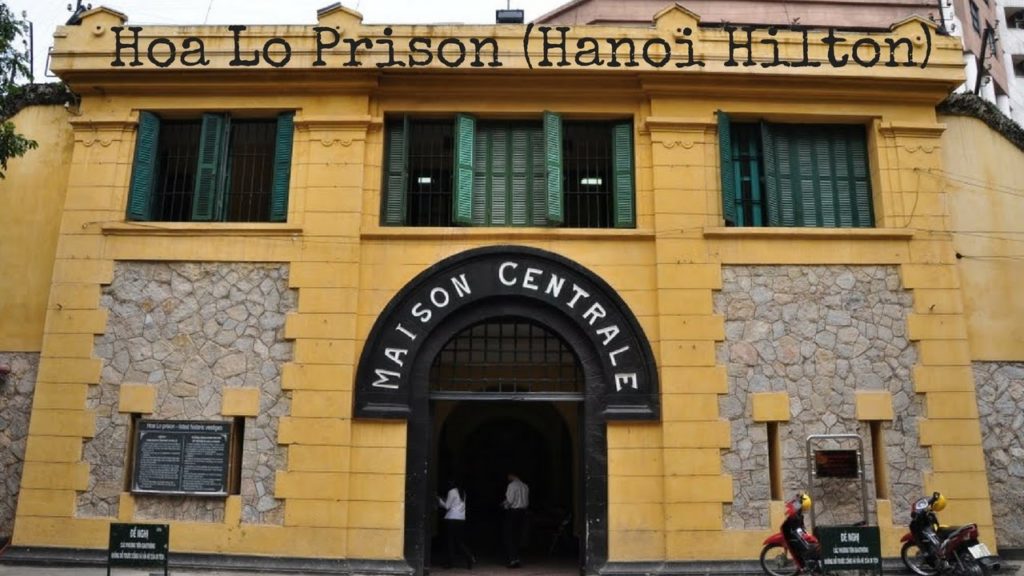 GOLF
SKY LAKE GOLF CLUB
SKY Course
Hanoi, Vietnam
The Sky Course is the work of Bori Golf Design Ltd. and lead designer Mr. Ahn Moon Hwan. The natural beauty of the landscape has been used to create continuity and consistency throughout the design. A subtle use of different elevations and aspects create a true and honest test of golf.
The signature hole of the Sky course is the 15th, aptly named Dien Bien Phu (a historic Vietnamese battle) due to its topography and difficulty. This hole is a true risk and reward experience that promises to become one of the more famous holes in the region.
VINPEARL HAI PHONG
Lake Course
Hai Phong, Vietnam
Located just off the city of Hai Phong – the third largest city in Vietnam and northern Vietnam's most important seaport, positioned 120 km from Hanoi. Set amid the 872 hectares of Vingroup's Vu Yen Island Ecotourism Area and crisscrossed by three rivers, in addition to the 36-hole championship golf course, the island features eco-villas, an ecological park, amusement complex, and a cable car system stretching 1.5 kilometers to link the mainland and the Island.
Designed by IMG Worldwide, the 36-hole championship golf course features two distinct courses "Lakeside" and "Marshland", challenging players of all levels. Lakeside, a scenic resort-style course with a plethora of interconnected lakes, coming into play on 12 holes with generous fairways and large undulating greens. Marshland, a shot-makers golf course specifically designed to be in harmony with the carefully preserved open wetlands, has been established with a different character to complement its companion.
ANGKOR GOLF CLUB
Championship Course
Siem Reap, Cambodia
The beauty of Cambodia lies in the richness of its traditions. The elegance of golf comes from its strategy, honor, and skills. Designed by 3-time Masters Champion and 3-time Open Champion Sir Nick Faldo, the Angkor Golf Resort epitomizes these essential characteristics and a unique tradition begins at one of the world's great new golf destinations.
Angkor Golf Resort provides all levels of golfers a challenging and fair test of golf. The par 72, 7279-yard championship course has seashore paspalum grass throughout the course allowing for an exceptional playing surface and enjoyable round. Practice facilities include 300 yards driving range, with target greens and practice putting green and chipping area.
VIETNAM GOLF AND COUNTRY CLUB
East Course
Ho Chi Minh City, Vietnam
Vietnam Golf & Country Club is the first 36-hole golf club in Vietnam and is widely regarded as Vietnam's Premier Golf and Country Club. Located just 20 kilometers from the center of Ho Chi Minh City, Vietnam Golf and Country Club is also the nearest golf club to the city. Set amongst 300 hectares of land, two great golf courses have been carved out of the existing woodland with minimal land movement, leaving you to feel that the land was always destined to be a golf course, so natural is the layout and design.
Lee Trevino, six-time Major Champion Winner (US Open 1968, 1971, USPGA Championship 1974, 1984 and The Open Championship 1971 and 1972), designed the East Course which opened in September 1997. The East Course offers more generous fairways than the West Course but is protected by well-positioned bunkers, water hazards and undulating Bermuda TifDwarf greens.
Alternate golf courses. Occasionally one of our golf course selections will be hosting an event, closed for maintenance, or could be booked out for a corporate day. Should that be the case we have selected some other courses to be played as an alternative. The courses all meet the same stringent selection criteria as our main courses and are also beautiful courses to play.
THE BLUFFS HO TRAM STRIP
Championship Course
Vung Tau, Vietnam
The Bluffs Ho Tram Strip was designed to capture the true essence of links-style golf. Set on the coastline – as almost all great links courses are – The Bluffs is routed over and around towering sand dunes, which have been shaped over thousands of years by the elements. The wind plays a major role in the experience here; it's always strong, and its prevailing direction differs depending on the time of year. Designed by Greg Norman, the number 1 ranked course in Vietnam is a true Gem!
"This is one of only two pieces of land of this quality and character I have ever been given to work with – the other being Doonbeg in Ireland," Norman said. "I'm a firm believer in using what Mother Nature gives us on a particular site. This one has it all. The experience of playing true links golf among the dunes of southern Vietnam and having dramatic ocean views throughout your round will make The Bluffs Ho Tram Strip one of the most unique golf experiences in the world."
Add-on Tour Options
Hanoi Foodie Tour
Duration:3 hours
Start time:00 – 18.15 for Dinner option
On a 3 hours walking tour you'll explore the culture, history of Hanoi, step into a world full of street food vendors. Unlike big cities all around the world, street food in Hanoi is not just hot dog carts and pretzel stands, we offer an opportunity to try out 10 different dishes at local food stands, family restaurants… A rotating menu from day-to-day to represent the variety of delicious options, but tastings might include rice noodle soup with beef, rice noodle with chicken, rice noodle with grilled pork, snail, or dry noodle, sticky rice, along with various kinds of donut, steamed pancake or Vietnamese sandwiches.
Sample menu: Pho (beef/chicken noodle), Bun Cha (Grilled Pork With Noodle), Banh Mi (Vietnamese Bread), Banh Cuon (Steamed Rice Pancake), Banh Xeo (Fried Rice Pancake), Bánh Gối ( Pillow Cake), Nom Bo Kho (Green Papaya Salad With Dried Beef), Thit Xien Nuong (Street Pork Barbeque), Banh Ran Ngot (Sweet Rice Donut), Che (Vietnamese Dessert), Ca Phe Trung (Egg Coffee), Local draught beer… Inclusions: English-speaking guide, transportation, sample food, Southern-style beef noodle dinner, local beer, drinks at Bia Hoi and coffee.
Hanoi market Tour and 3 Course Lunch or dinner
Duration:3 hours
Start time:00 – 14:00 for lunch option  |  15:00-18:00 for dinner option
Clients will explore the bustling local market with a chef who guides you around the market, demystify the local produce, explain the market culture and encourage you to taste some of its most exotic ingredients. After this tour, you will return to the restaurant to enjoy a 3-course traditional Vietnamese lunch or dinner, inclusive of one drink. This is a great opportunity to do more than 'just have a meal' if your schedule is packed and time is limited. Inclusions: English-speaking guide, transportation, sample food, 1 drink.[/vc_column_text][/vc_column][/vc_row]
DEPOSITS
Due at the time of booking $800 per golfer $400 per non-golfer.
Vietnam and Cambodia Mekong River Golf Cruise inclusive package from US$8880 per golfer and US$5887 per non-golfing travel companion.